94% of students recommend ACCM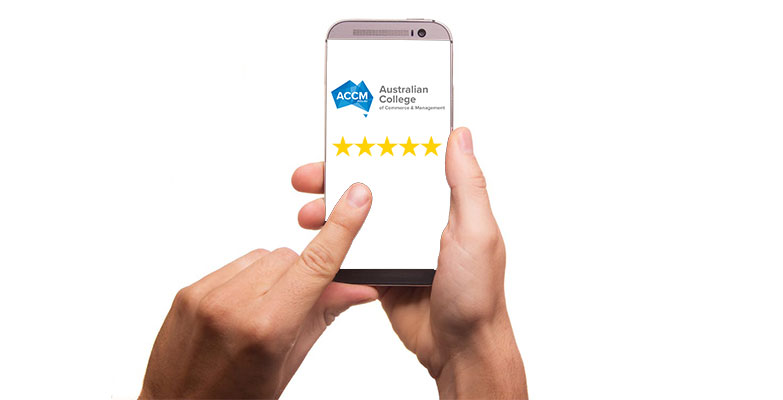 ACCM is committed to providing the best learning experience for our students, and it looks like we're doing a good job.
The National Centre for Vocational Education Research (NCVER) recently conducted the National Student Outcomes Survey, Australia's largest survey of Vocational education and training (VET) students. Half a million students (who completed their training in 2016) were asked to complete the survey.
The annual survey provides information on employment outcomes, training satisfaction, and the benefits and relevance of training and is designed to help students make informed decisions about training, whilst at the same time helps governments and training providers administer, plan and monitor the VET system.
So how did we do?
We did really well!
89.3% of ACCM graduates were employed after training and 93.6% were employed or enrolled in further study after training.
The overall students' satisfaction with training was impressive too.
89.5% of ACCM students were satisfied with the overall quality of their training, with 92.6% of graduates saying that they would recommend the training they received. What's more, a very impressive 93.6% of students said that they would recommend ACCM to other people looking to complete a qualification.
So what is that our Students love about us?
We would like to take an educated guess (no pun intended), but we prefer to hear it straight from our students.
We are constantly asking our students for feedback on what we are doing well and how we can improve. Something that we hear a lot is how amazing our Student Advisers are. But what is it that makes them so amazing? Well, before we welcome Student Advisers to the ACCM family we look for a few things.
Industry Background – We believe that experience in the specific industries that our Student Advisers are teaching is essential. It means that our Student Advisers have been in a very similar position to what our students are in now. They have been through the process of learning and experiencing the systems that are in place in a student's workplace. They can relate experiences back to training, making it relevant to individual student circumstances.
Dedication – Being a Student Adviser at ACCM is more than a job. Our team love what they do and they thrive off of student success. We all want you to do well in your studies and this shows in the above survey results and the feedback we receive on a daily basis from our students.
Passion for Education – Our Student Advisers understand the possibilities and opportunities that a VET qualification can bring to our students. For example, VET graduates achieve a higher employment rate than bachelor degree graduates with a comparable, if not higher, than university graduate wages. In addition to this, VET is readily adapting to changing workforce needs giving students the real world skills needed to succeed in their chosen career.
Recommended AND recognised.
It's not only our students who think we're doing an awesome job.
ACCM was nominated as one of the top three large training providers of the year at the 2017 NSW Training Awards. The college was also nominated for FIVE awards at the 2017 Illawarra Business Awards including: Excellence in Business, Excellence in Customer Service, Excellence in innovation, Employer of Choice and Business Leader.
The NSW premiers office also took an interest in our excellent completion rates, paying us a visit to see how ACCM delivers their training and how we help so many students gain their qualifications.
Focusing on Getting Better
As happy as we are about these results, we still strive to better the way we deliver our training to get to the 100% mark. These surveys and feedback are essential to how we design structure and deliver training here at ACCM. We have already taken the feedback on board and have identified ways to improve course materials; offer those who want it - more challenge; and better explain why we have to ask you to do some activities that may seem irrelevant.
While the most glowing feedback was about the level of support students received; we acknowledge that not every student hits it off with their trainer. So that's something we are looking at. We want to make sure that every single student that enrols with ACCM has the support, guidance and best learning materials required to succeed in their studies and current and future career.
If you have any feedback or suggestions that can help us in reaching our goals, then please get in touch.
Other Stories
Click the links below to read some of our student feedback, and to find out why our students love to study with ACCM
What Our IT Students Have to Say
What Our Business Students Have to Say
What Our Finance Students Have to Say