Excellence in Customer Service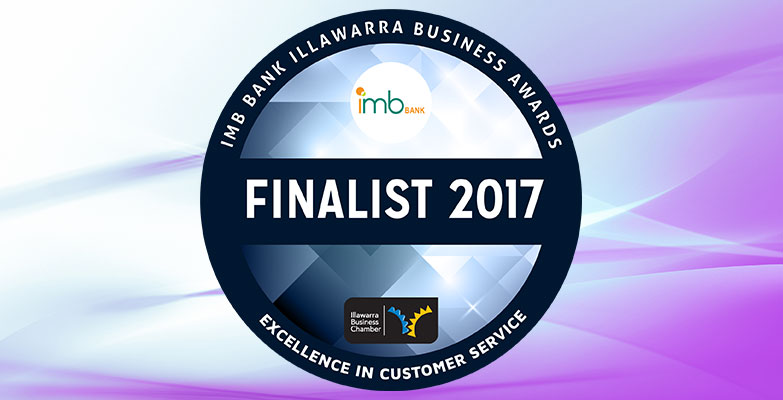 ACCM College is proud to be recognised as an Excellence in Customer Service Finalist in the 2017 IMB Illawarra Business Awards. When your core business is convincing over 2500 adults to do their homework every year, you better have an outstanding customer service strategy!
Our 21-year success story isn't based on just giving our customers what they want, but delivering what they need. This means we take responsibility for their success and offer a customer service strategy that helps our customers reach their goals.
The ACCM customer service strategy is about: easily accessible course and fee information; proactive personalised contact; customer "ownership"; user friendly technology; and pre-empting and delivering on future customer needs.
Our customers include students; employers; group training companies; apprenticeship centres and government stakeholders. This submission focuses primarily on the student experience, but we put the same emphasis on the customer service needs of all stakeholders.
Our strategy begins well before the customer relationship starts via full disclosure of all information customers need via our website and our CourseConnect phone centre.
When a student enrols, a staff member takes ownership for their success. This begins at first contact, when our team of customer focused Student Advisers forge strong relationships with every new student during an in-depth welcome call. By understanding each students goals, needs and past experiences we are better able to support them going forward.

We build on this foundation with meaningful ongoing contact, assisted by leading edge technology that guides, schedules and records contacts. Students respond to this approach because they're satisfied, and we've proven satisfied
students meet their goals…which is great, because that's our goal too!
what are the key elements that drive the positive customer experience at ACCM
The first key element is relationship development and "ownership". Our Student Advisers "own" their students and their progress. This creates a positive experience for students because they build a relationship with one person who sees them through their entire course. When they need help, they know who to call. The same "sole" ownership holds true for our clients, industry partners and government agencies.
We hire the right people. During recruitment we don't just look for industry experts; we look for personalities that drive customer satisfaction. We know a caring and empathetic nature combined with determination and passion works for our customers. Our student's testimonials on our website speak for themselves.
Our IT systems are intuitive and user-friendly. After 21 years in business we knew exactly what our customers wanted, but that just didn't exist in marketplace. So we built our own! Using staff and stakeholder input, our IT gurus designed an on-line student portal called "WebClass" and a customer-centric Dashboard that revolutionised the student experience.
Read more about our systems and how they have vastly improved the way we work.
Our course materials deliver the skills our customers need. Customers come to us with a purpose, anything less than fully preparing them for a meaningful role in their chosen industry is a failure. And one we won't allow. We constantly seek industry and stakeholder feedback to review, revise and update our materials to reflect the latest in industry trends, standards and skills.
We act on the feedback we receive. For example, when we learned students were frustrated with calling a central number, explaining their need and then explaining it all over again when transferred to their Student Adviser…we took action. By integrating our phones with our IT systems, student's incoming calls are directly routed to their personal Adviser. Being seen to put feedback into action is a key element of driving our customer's satisfaction.
How do we measure customer satisfaction
How do we measure satisfaction? We ask! Early and often!
Every time we communicate with a stakeholder we ask how they are travelling, what they need and how we can do more. Every idea, concern and piece of feedback is immediately captured in Dashboard for evaluation and action by our Advisers, Team Leaders and Directors.
We also measure satisfaction every time course work is submitted. A short-online survey provides instant feedback on our materials, assessments and support. This lets us know instantly where we can improve. To keep our focus on customer service, those same satisfaction results are also displayed as a percentage on each student Dashboard screen to keep Advisers focussed on where we need to do more!
By tracking satisfaction results and feedback, we discovered our two-week turn-around for grading assignments was "killing" our student's momentum. We immediately began refining our grading processes, upskilling staff and overhauling our IT systems to reduce turn-around to just two days! How did we benefit? Student progress has taken a quantum leap forward with less delays, greater enthusiasm and higher completion rates.
Responding to similar measurements has increased customer satisfaction by: automating the enrolment process to allow new students to start their course in five minutes; real-time student progress reports for employers; automatic phone transfers to Student's personal Advisers and electronic notification of assessment results within minutes of completion.
We ask and act on the tough questions too! At the end of each course students and employers complete a government set 50-question Quality Indicator survey. This in-depth survey captures satisfaction levels across a broad range of our support, service and quality elements. Even though our annual satisfaction levels exceed 80%, we dig into every one to find the next piece of information to take our customer service to the next level.
some of our key successes in the last 12-24 months
The last 24 months have been an amazing period of growth and success for the College. And satisfied customers have been the key to that success.
We are extremely proud that the Australian College is currently one of only three state-finalists in the 2017 NSW Training Awards competition for Large Training Provider of the Year. This outstanding industry and government recognition is in large part due to our customer centric approach. Key customer deliverables for this award include student satisfaction, industry reputation and strong Traineeship completions (we have a NSW high 74% completion rate; 96% if you factor out Trainees who have left their employer).
In fact, our stakeholder satisfaction and completion rates have been so strong in the last 24 months the NSW Premier's Behavioural Insight Unit came calling to find out what we were doing right. During their two day visit the Premier's office witnessed first-hand our Advisers delighting our students and using our proven technology and processes to help them progress in their course. Our visitors left with new ideas, helpful suggestions and best practice benchmarks that will improve public and private RTO results across NSW.
Outstanding levels of customer and stakeholder satisfaction has driven both new business and kept existing customers coming back. With over 600 unique businesses enrolling over 5000 students in the last two years, our student population continues to grow.
Recently we proudly became the RTO of choice for 8 national Group Training Organisations. The best news? We learned the quality of our service, student support and superb client responsiveness was the major deciding factor in exclusively using our services going forward. In the process of enhancing customer satisfaction we have improved our operational efficiency in our core functions of: student support and follow up, client management, compliance and staff development, administrative support, assessment processing and user-friendly enrolment processes. The examples of phone call routing and huge improvements in marking times are just 2 of many efficiencies that also add customer value.
From the financial data provided it should be clear that due to improved student, client and stakeholder satisfaction we have excelled at a financial level. But we have also implemented a controlled growth plan that has been regulated by stakeholder needs and ensures meeting those needs remain our primary focus. Careful management of this approach has translated into a sustainable customer value which has directly translated to our bottom line.
How do we handle customer complaints
Feedback of any kind is pure gold to us, especially complaints. This is our chance to make things right.
Although serious complaints are extremely rare, we treat every one seriously. Concerns are immediately escalated to a Team Leader for investigation and resolution. Regardless of fault, our only goal is to ensure the stakeholder is satisfied.
We make every effort to contact the stakeholder and truly listen to understand their concerns. Only then do we mutually explore all possible solutions. If the mistake or failure was on us, we apologise and make it right. Even if it's not, we do everything possible to find a workable solution that satisfies our stakeholder's need or concern.
Every issue is tracked in our Dashboard register to resolution. Complaints are only closed by a Director once we have trained staff or revised our processes to prevent re-occurrence.
We aim to stop issues becoming complaints. For example - a student may feel their course is no longer relevant to their goals. Our Advisers quickly determine what's changed and match updated goals with more appropriate subjects or qualifications. This simple solution solves a major stress for our students and re-energizes their progress. And we helped make it happen because we listened.
The ACCM Customer Experience
Here at ACCM College we know how important the customer experience is. So its something that we actively review and manage and are always on the look out for ways to improve it!
Although we are proud to be recognised as an Excellence in Customer Service Finalist in the Illawarra Business Awards, we are even prouder of the student and client reviews and feedback we receive.
In addition to ACCM College's nomination for Excellence in Customer Service, we have also been nominated for:
Excellence in Innovation Award
Excellence in Business