HCF and ACCM celebrate another Success!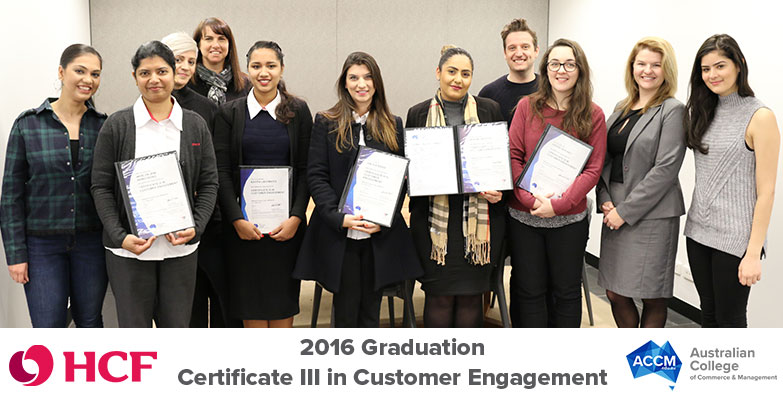 Under the client customised training program, national health fund provider HCF and ACCM have just added 7 new Certificate III in Customer Engagement graduates to the successful history of our 2-year partnership!
With HCF's Managing Director, Shaun Larkin and our own Amanda Piatek presenting Trainees with their Qualification certificates, the smiles of our newest graduates quite literally lit up the board room.
A Tailored and Contextualised Program to Meet HCF Needs
The College partnership with HCF began in 2014.
From our first meeting it was clear that HCF's leadership wanted this program to not be a "generic" qualification. They needed a program that reflected the same standards, policies and processes that their teams were already using across Australia to support their valued members.
Fortunately, ACCM has over our 20 years of experience contextualising our nationally recognised qualifications to meet the specific needs of our clients around Australia.
Alongside the proactive HCF leadership of Ben Blunt, we had the opportunity to work with HCF's talented Learning and Development team of Keith Maitland, Simran Bagga, Aysha Sezgin and Bec French to create something special.
Using the L&D team's vast expertise leading staff development within HCF, and their passion for supporting their members, we designed a unique learning program that truly delivers.
Our tailored course:
made maximum use of HCF's comprehensive induction program,
captured direct evidence from the work staff members perform every day, and
always followed the actual procedures, service standards and technology HCF employs daily supporting their members.
And as HCF continuously improves the quality and processes of their member service, ACCM continues to revise and refine our Certificate III program to ensure it remains relevant, practical and meaningful to HCF's needs.
We look forward to many more graduations with HCF as our on-going partnership continues to grow.
Personal Student Support is another Key to College Success
College Student Adviser, Amanda had a special reason to be smiling at the Graduation ceremony.
As the Trainee's Student Adviser and HCF's Client Manager, she had personally guided, coached and mentored each student from their first day with the College, through to today's celebration.
Amanda takes great pride in the care of her HCF students and ensures support and guidance is always just a phone call, email or coaching visit away.
That type of personal commitment to our client and student's success is one of the many things that sets ACCM apart from others.
During the ceremony, Amanda proudly reflected on how much she enjoyed watching the Trainee's skills and knowledge grow over the last 12 months. Focussing on preparing her students for a career in Customer Engagement supporting HCF's goals is a very rewarding experience for Amanda and we take great pride in her passion.
More Details
If you would like to see how we can design a course tailored to meet your exact business needs, or for more information on any of the courses that ACCM offers, visit www.accm.edu.au, email courses@accm.edu.au or call 1300 769 690
Wish to share this Article?
Permission is given to quote this article strictly subject to your article containing a direct link back to this page.
Other Related Stories
Flexible and Responsive Training Programs
ACCM Listens When Call Centres Say, "Time is Precious"
ACCM Celebrates our 1,500th Enrolment with Datacom Australia