Student Progress Reports - Now with 24/7 LIVE Access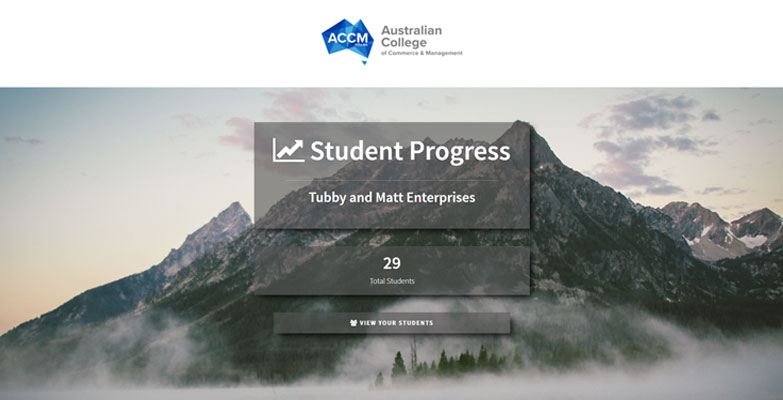 When employers make an investment in staff training it is critical that they can access updates on how their employees are progressing in their training courses.
ACCM College gives employers instant and up to date access to all the courses their staff are enrolled in. Access is available online 24/7.
This is one of the reasons we are in line for the prestigious Award of NSW Large Training Provider of the Year.
Our clients can utilise the Student Report System 'a little or a lot'.
If time is in short supply, (and who can't relate to this) they can quickly see how their staff are tracking just by looking at the 'course status'.
Each student will have a summary of where they are with their studies e.g. on timetable, ahead of timetable and 1 subject behind etc.
Clients can act on this information whichever way they choose, for example they might like to recognise staff who are progressing well or perhaps have a chat with any staff who may be falling behind. We, too, use the same information to make sure that we are identifying students who need help to get them back on schedule.
If clients want to delve a bit deeper, they can open up the Student Details modal to get more information such as course name, the percentage of the course completed and time lapsed and a full timetable listing each subject and due dates and results.
"Clients can easily see how each staff member is progressing in their studies according to each individual plan. This allows them to be able to maintain immediate contact with the college if they have any questions or concerns". Nicole – National Finance and Credit Training Manager
The summary and the detailed information can also be printed or downloaded as an excel spreadsheet. This is handy for those clients who like to do an analysis of overall progress so that they know where to focus their efforts. It is definitely a huge timesaver for clients with lots of programs and lots of staff.
"Before we would receive a detailed, monthly report outlining how our employees were progressing with their course. Now with the new reporting system and recent updates, we have the opportunity to monitor our employee's progress in real time which has improved our ability to understand which of our staff need help and encouragement and which of them we can recognise as doing a great job." This is something that we hear repeatedly when talking to clients.
Only recently we added a tab that displays all previous students and closed enrolments. This request came from a financial institution who has been using our CPD courses over the long term to manage their compliance obligations for Responsible Lending. By providing access to past student completions they can ensure that their staff are meeting their annual professional development obligations and also help them plan for when a staff member's course needs to be 'renewed' for the next compliance period.
"This feature has made a real difference for one of my clients in particular. Whereas before they had to call and check on whether a past student had completed their course and in which year, they can now simply click on a tab to find that information when they need it" Tracey Jones – Director of Training and Compliance
But we aren't stopping here because we have big plans for the near future, and beyond.
Very soon, our clients will be able to download a training plan for every one of their trainees. It is a government requirement to sign and return the Training Plan. How much easier will it be to download it from the Student Report System rather than it standing the chance of getting lost in a myriad of other emails! An alert or notification will let the client know that there is a training plan that needs to be actioned, and again, they simply need to click on a tab to access it.
We are also planning to further elaborate on the students' progress by adding a more detailed synopsis on how they are tracking. Clients will also be notified when a student is nominated for submitting outstanding work – all great for a morale booster.
Also in the pipeline is the ability for an employer or the nominated supervisor to review and complete on observation checklists and workplace skills checks. These are an important way of confirming that the student is putting the skills they have learnt into practice. We are planning that these features will be available through the Student Progress Reporting system this year.
We could go on and on, but rather than getting carried away and taking up your valuable time, please let us know if there is something that would make your job a whole lot easier.
If it is not already on our list, we will gladly add it because we appreciate and respect the role employers take in developing the skills of their employees.
Hang on a minute, we might just add a 'Feedback' tab so that you can contact us directly through our Student Report System – I am not sure why we didn't think of that sooner!