Smart and Skilled Councils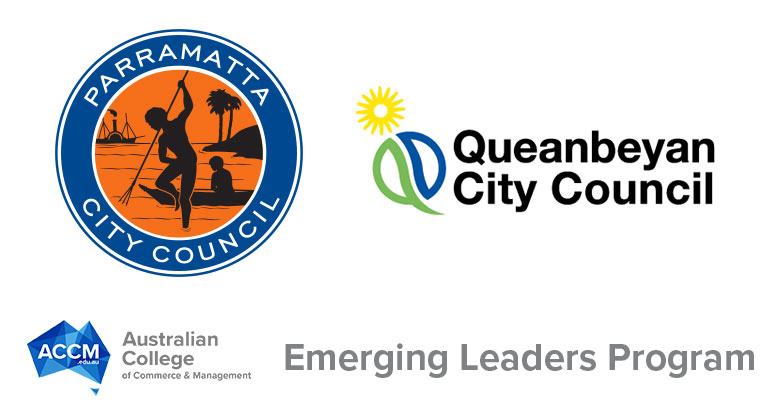 The City of Parramatta Council has just launched its 2016 Emerging Leaders Program.
This is the 4th leadership program run by ACCM on behalf of the Council. This current program not only retains the huge development benefits to be gained from a structured leadership and management, but it has another major one! More than ever Councils are under pressure to achieve more with fewer resources. So more than ever, having access to high quality subsidised training opportunities is a huge advantage.
ACCM is an approved provider under the NSW Smart and Skilled Subsidised Training program. Under this program ACCM can deliver its high quality training programs for a fraction of the standard commercial price.
This program allows Councils, like City of Parramatta Council, to meet its key training needs in a cost effective manner; without compromising quality
Where It All Began
In early 2009, The City of Parramatta recognised the need to ensure their emerging leaders were ready to meet the demands of Council's staff, customers and residents.
Looking ahead, the Council's leadership understood that their staff needed a strong focus on leadership skills, team management, operational planning and customer service to meet the high expectations of Parramatta City residents.
Working closely with the Council's passionate L&D team, our talented course designers created a tailored Certificate IV in Frontline Management program that captured and met every one of those needs.
Our 2009 inaugural program was a complete success! Each and every one of the 21 dedicated and eager Council staff who enrolled in our first program completed their course in strong form.
Graduates Progress to Diploma
The Council quickly realised they were onto a good thing with ACCM, and in mid-2010 enabled 8 of those graduates to continue their development with our prestigious Diploma of Management Program.
This group of high achievers quickly built on their skills and began to demonstrate their proven ability think strategically, manage larger and more diverse teams and plan for Parramatta's future.
A Refreshed Program
In 2014, a new Certificate IV in Frontline Management program was launched to meet the newest changes, growth and demands of supporting Parramatta residents. Recognising the success of the last group was no accident, a face to face workshop program proved key to delivering a tailored program to 8 enthusiastic and motivated future leaders (with every student graduating!).
Exciting Times in 2016
Once again, the College's long-term partnership with Parramatta City is alive and well in 2016.
The need for strong leadership is greater than ever as The City of Parramatta Council faces even greater challenges supporting their members and residents.
To stay current with their evolving needs, our course designers have partnered with Council to create a new tailored program under the new Certificate IV in Leadership and Management. This new workshop program will provide an increased emphasis on leadership communication, team building, problem solving and operational planning to prepare these new leaders for their role in keeping Parramatta strong.
ACCM is proud to be part of the Council's passion and commitment to the Parramatta community and the team of professionals that care for it.
Smart and Skilled Training is Subsidised by the NSW Government.
More Details
If you are interested in establishing a similar program or would like more details please contact Pauline Farrugia at the College:
Click here to read about how ACCM has been actively delivering tailored training programs that cater for specific Council needs

Traineeships Work! Find out how Camden Council used the power of traineeships to tackle youth unemployment and skills development in the local area.
Wish to share this Article?
Permission is given to quote this article strictly subject to your article containing a direct link back to this page.
NOTE
We are aware that some of the Councils mentioned in this article have now merged as part of the NSW Council Merger initiative.
For a full list of merged councils please visit https://www.strongercouncils.nsw.gov.au/new-councils/