Councils have unique challenges and needs …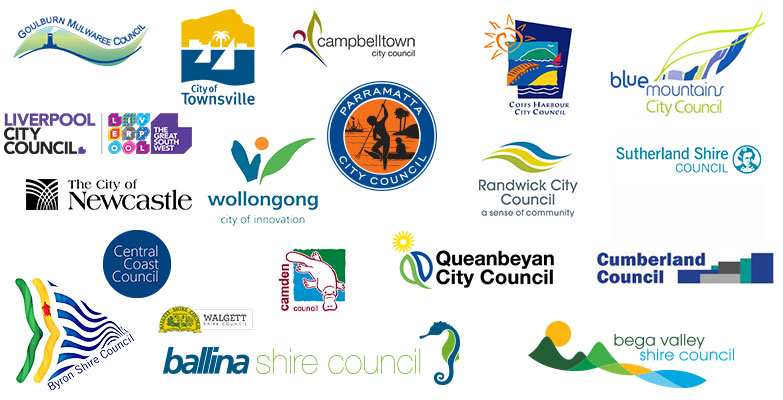 Since 2003, ACCM has been actively delivering tailored training programs that cater for specific Council needs.
Over this time we have worked closely with over 50 councils.
The reason we have worked with such a high number of Councils, is that word has spread about how here at ACCM, we can deliver quality, tailored, reputable programs that meet council needs.
Read about Council Leadership Programs; courses for specialist staff like Recordkeeping, Administration and Accounting; and our long association with local government.
LEADERSHIP SKILLS FOR A LOCAL GOVERNMENT ENVIRONMENT
Multiple departments with high numbers of staff require expert leaders to encourage teams, big or small, to run effectively and efficiently.
Our long history in developing specific leadership programs for Council started in 2003.
In 2003 Randwick City Council saw the need for a training program that would take existing managers to the next level of their career development. That year saw 10 leaders graduate with the Diploma of Frontline Management.
In 2008 RCC sought ACCM's help to develop and deliver a program to 30 emerging leaders. When faced with such a large number of employees from different areas within the council, a tailored program that suits all departments' needs was a must. ACCM devised a program that consisted of self-paced modules and face-to-face on-site workshops. This meant that all employees could enjoy the benefits of group interaction and discussion; while also being able to progress at their preferred pace.
Since then, Randwick Council has seen 78 of its employers successfully complete the program.
Sutherland Shire Council and City of Parramatta Council soon followed
Sutherland Shire Council took the opportunity to upskill 4 of its outdoor staff leaders in 2008. It followed on from there with a larger program in 2014 which saw 9 Diploma of Management graduates and 15 Certificate IV in Frontline Management graduates.
Parramatta City Council saw the benefits of tailored Leadership programs, and in 2009 ACCM ran an extremely successful Certificate IV in Frontline Management training program run for the council. (click here to read more about the program).
Now is the 7th year of our relationship with City of Parramatta Council. Council has seen over 45 employees complete the program and has just enrolled a further 14 employees into the Leadership and Management Training program. New state funding for qualifications delivered by ACCM has meant that City of Parramatta Council have not only addressed a key staff development goal; but done so without impacting its training budget. Read about this program
COURSES FOR COUNCIL SPECIALIST STAFF
ACCM are one of the few training providers that deliver this qualification. Our main clients for these professional courses are Councils who take on trainees in this field. Our programs focus on ensuring that new records staff understand the specialist concepts behind records management – so that they understand what systems like TRIM are doing. The added advantage of distance delivery learning resources is that formal study time can be worked around busy times in the records department.
Liverpool Council placed four of their employees from the Records area into the Certificate IV in Recordkeeping. The group completed their training using ACCM's self-paced modules, accompanied by regular coaching from ACCM's experts in the Business team.
Since then ACCM has had a steady stream of Certificate III and IV in Recordkeeping council trainees at Kogarah City Council, City of Ryde Council, Wollongong City Council, Circular Head Council, City of Bunbury Council, Shellharbour City Council, Liverpool City Council, Narrandera Shire Council, Byron Shire Council, Ballina Shire Council, and the Shire of Dardanup. Talk to us about how we can assist with your records training.
Many Councils enrol their staff in College specialist HR courses: Queanbeyan City Council, Gosford City Council, Tamworth Regional Council, Shoalhaven City Council, Gundagai Shire Council and Randwick City Council.
Gosford City Council achieved recognition when their employee, and ACCM student, Tiffany Spee won the Trainee of the Year in the 2008 Central Coast Training Awards.
ACCM HR courses offer opportunity to skill up those new to HR in recruitment; performance management; WHS and workplace relations. Experienced HR staff may benefit from accreditation of their skills or delving deeper into HR management via the ACC Diploma program.
Blue Mountains City Council is one of a number of Councils to use ACCM programs to address a need to develop and skill staff in accounts administration. This field is highly competitive, making it difficult to attract skilled staff.
Blue Mountains Council have for the past few years utilised the traineeship program to employ and develop staff in these fields. One of their trainees successfully progressed to complete her Certificate IV in Accounting.
Bega Valley Shire Council has also had successful Accounts Administration graduates in 2013 and 2014; Sutherland Shire Council in 2015. In addition to Blue Mountains City Council, Kiama Municipal Council, Shoalhaven City Council, Carrathool Shire Council, Walgett Shire Council and the District Council of Ceduna have had ACCM accounting graduates while Narrandera Shire Council and Blue Mountains Council have current accounting trainees.
Kiama Council also offered the opportunity for more experienced accounts staff to complete the Diploma in Accounting – a huge achievement.
Councils choose ACCM accounts administration and accountancy courses as the choice for their staff as it gives them the best of both worlds: a distance delivery program with flexibility AND a personal Student Adviser for assistance and support.
With so many different council initiatives, marketing is becoming a more and more desirable qualification amongst Councils. Being able to effectively communicate to rate payers and stakeholders is a key part to any council's strong relationship with their local community.
As far back as 2006 ACCM welcomed its first Council Marketing student at Shoalhaven City Council and in 2008 the first marketing trainee at Coffs Harbour City Council. She was closely followed by marketing trainees at Narrandera Shire Council, Hay Shire Council and Shoalhaven Shire Council.
A constant flow of incoming calls is something every Council has to cater for. Having the right people on the end of the phone makes a big difference to satisfaction levels of your rate payers. Having staff that can assist and resolve any query or issue in the first instance can greatly increase caller satisfaction and decrease the number of repeat calls.
Parramatta City Council in 2009 enlisted ACCM to develop a Customer Engagement training program that would give employees the skills needed to deliver a rewarding customer service experience and the ability to for staff to cope with difficult calls. Other councils who have enrolled staff include Shoalhaven City Council, Gunnedah Shire Council, Cowra Council, Wagga Wagga City Council, Cumberland Council and Campbelltown City Council; with Cumberland Council and Byron Shire Council having current trainees in this field.
Business and Business Administration traineeships are a way that many Councils both develop their pool of staff and support the fight against youth unemployment in their local communities.
As well as Camden Council who are active in this training other Councils utilise the effectiveness of traineeships: Wollongong City Council, Shellharbour City Council, Queanbeyan City Council, Cumberland Council, Fairfield Council, Canada Bay Council, Goulburn Mulwaree Council and Walgett Shire Council.
These programs offer real workplace skills in computer applications; time management and customer service.
Oberon Council, Wingecaribee Shire Council, Bega Shire Council , Goulburn Mulwaree Council, Narrandera Shire Council , Wollongong City Council , Bega Valley Shire Council, Kiama Municipal Council, Queanbeyan City Council and Shoalhaven City Council also offer Certificate 4 level business courses to their more experienced staff. This flexible qualification allows Councils to tailor a program that suits the specific needs of each staff member. In June 2016, 14 Wollongong City Council employees successfully completed a Certificate IV in Business.
Many Councils have a strategy to build their IT teams by taking on IT trainees, whether directly employed, or as a host to a trainee from a Group Training Company.
Liverpool City Council, Campbelltown City Council, Camden Council and Fairfield City Councils have successfully adopted this approach with trainees in Certificate 3 in IT.
Other Councils develop the skills of more experienced IT staff through a Certificate IV in IT – with specialisations in Networks or Support. Hurstville City Council, Townsville City Council, Clarence Valley Council, Randwick City Council, and Baulkham Hills Shire Council are examples.
Others like Bogan Shire Council, Goulburn Mulwaree Council and Narromine Shire Council have used this initiative to be pro-active about employing females in this non-traditional field.
In 2016 ACCM offered council staff the latest IT qualifications.
LONG HISTORY WORKING WITH LOCAL GOVERNMENT
ACCM has had a long history helping Councils deliver flexible and high quality structured training to their staff.
The participation of Councils in training and traineeship programs has the added benefit of making a direct contribution to their local economy. Councils often overlook the contribution they make through hiring trainees and apprentices to learn key work skills (and break the youth unemployment cycle), by developing their staff and by promoting the importance of education. Here at ACCM we would like to recognise the many councils who lead the way on these important community issues.
More Details
If you are interested in establishing a similar program or would like more details please contact Tania Holmes at the College:
Traineeships Work! Find out how Camden Council used the power of traineeships to tackle youth unemployment and skills development in the local area.
Parramatta City's Emerging Leaders program enters its 4th year.
Wish to share this Article?
Permission is given to quote this article strictly subject to your article containing a direct link back to this page.
This article was compiled from historical published College Newsletters, to bring this information into the digital age.
NOTE
We are aware that some of the Councils mentioned in this article have now merged as part of the NSW Council Merger initiative.
For a full list of merged councils please visit https://www.strongercouncils.nsw.gov.au/new-councils/