ACCM - Celebrating Our 25,000th Student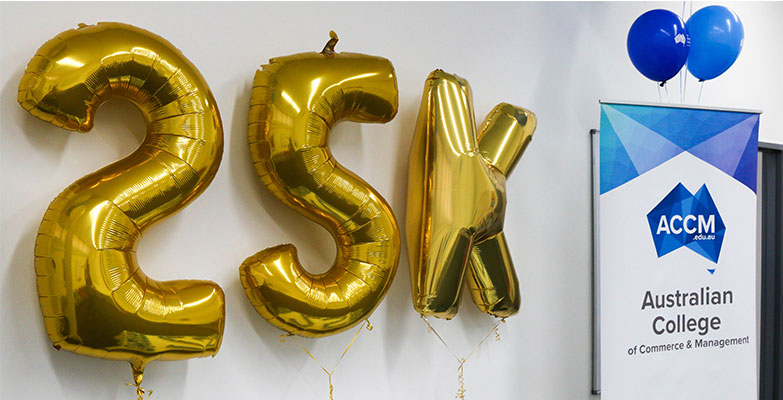 Australian College of Commerce and Management (ACCM), recently celebrated the enrolment of its 25,000th student in its 20th year!
ACCM hosted an event at their Wollongong College to mark the occasion, inviting local businesses, clients and students.
Representatives from Illawarra Business Chamber, MEGT and Apprenticeship Support Australia were in attendance showing their support for the College. Madison Coles of Illawarra Credit Union was the guest of honour after becoming ACCM's 25,000th student.
"Community Alliance Credit Union is proud to have a long-standing partnership with the Australian College of Commerce and Management (ACCM). Our members and our staff are at the heart of our Credit Union. The training ACCM gives our staff allows us the opportunity to invest in their development and future,plus helps our organisation grow by adapting to the ever-changing needs of our banking members."

- Chief Risk Officer, Emma Anderson (Community Alliance Credit Union)
The key to ACCM's success is its ability to deliver training on a more personal level. 25,000 students may sound like a lot, but this number is spanned over the last 20 years!
Chris Czarnosz explains:
"As an education provider it's important to remember that our student's come first. That's why we keep our enrolments at a level that ensures each student receives the care and attention they need to gain their qualification."
ACCM provides online training courses nationally from its Wollongong "Home Base". They weathered significant pressure to move to Sydney, and now have an established permanent workforce of 45 Illawarra locals, and growing. As well as achieving this student enrolment milestone ACCM pulls above its weight by providing genuine long term and youth employment opportunities – a rarity in the Illawarra.
ACCM were the recent focus of a government study aimed at helping other training providers catch up to ACCMs industry leading student graduation rates. The study centred around what can be learned from ACCMs best practice approach that achieves both positive student feedback as well as measurable student graduation results.
It is the quality of what they do that makes ACCM stand out in a sector where there has been lots of publicity for the wrong reasons. This quality will be showcased on the national stage when an ACCM student makes their way to the National Training Awards in Darwin in October. Each year ACCM has been successful in having the quality of its students and courses recognised.
"We just like to quietly go about our business" says Lisa Jones, Managing Director, "but we are proud of yet another milestone that reinforces that our commitment to stay in the Illawarra is the right one."