Training and Development at your Regional Australia Bank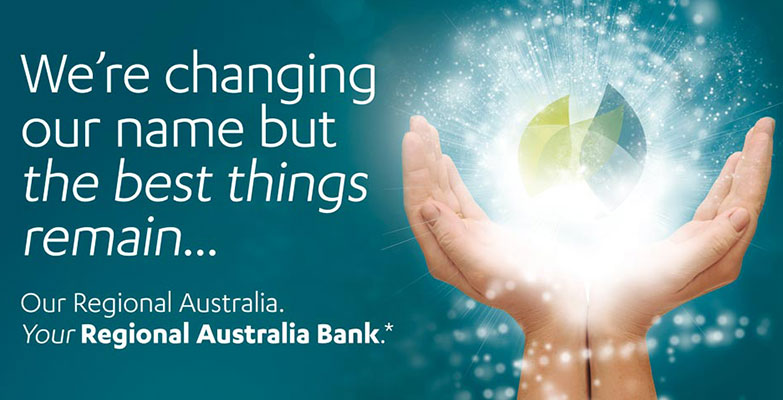 Regional Australia Bank has a key leadership role in its local communities
Regional Australia Bank is a customer owned bank that has been helping regional Australians achieve their lifestyle goals for more than 45 years. With roots in regional NSW and members throughout the country, Regional Australia Bank has grown to be a premier Banking alternative.
They have a customer base of approximately 70,000 members and an asset base of almost $1 billion, and 29 branches and over 220 staff.
As well as being recognised and winning awards for its corporate social responsibility and community involvement there is another significant way that Regional Australia Bank leads the way: Regional Australia Bank is pro-active in its commitment to staff training and development and have engaged ACCM since 2008 to help meet this need.
400 enrolments and eight years later – it's still a highly successful training partnership, with a 99% staff completion rate. Regional Australia Bank also make use of the subsidised training opportunities that ACCM can offer to ensure high quality training without killing its staff training budget.
2016 Training Awards Recognition
In June this year their effort was independently recognised at the New England Regional Training Awards.
In recognition of Regional Australia Bank's focus on staff training and development a total of 6 finalists from Regional Australia Bank were independently assessed and nominated in the prestigious New England Regional Training Awards.
In the past year Regional Australia Bank has expanded their successful training partnership with ACCM to include specialist qualifications such as Certificate IV in Work Health and Safety, Diploma of General Insurance and Certificate IV in Project Management.
This builds on their current programs that enrol staff in ACCM courses in certificate 3 and 4 in Financial Services and specific lending short course programs.
Awards picture: From left to right: Katrina Freeman (Diploma of General Insurance), Toby Killen (Certificate IV in Credit Management), Cassandra Marsh (Certificate IV in Work Health and Safety), Kelly Woolfe (Diploma of Credit Management), (and not in the photo)Stephanie Armatage (Certificate IV in Financial Services), and Carly Wood (Certificate IV in Financial Services) were all worthy nominees.
Congratulations to Katrina Freeman who was awarded Vocational Student of the Year Runner-up.
What Makes This Program So Successful
Regional Australia Bank have an in-depth relationship with ACCM. This ensures that we are all on the same page about their customer service, compliance and skills development goals.
"Our success is, to a large extent, a reflection of the calibre and skill of the people we have in our organisation."
It's the internal commitment (from the top) that really distinguishes Regional Australia Bank's approach to staff development. CEO Kevin Dupe has been a long-time supporter of training in the mutual bank sector, and Michelle Edmonds champions the program as Chief Operation Officer.
At a hands-on level, credit goes to the Human Resources Department, who have identified the opportunities to use ACCM traineeship and subsidised training opportunities to achieve their ambitious training and development goals.
Tier 2 Training
A key component of the Regional Australia Bank's compliance program is Tier 2 accreditation. Regional Australia Bank started using ACCM Tier 2 training in 2012 and have continued to use this flexible on-line program to accredit new staff in adviser roles.
They have nominated for their staff to complete the 3 streams: basic deposit products, non-cash payment facilities and general insurance.
This ensures that staff are fully skilled to advise members on the best products to meet their needs.
68 staff have undertaken the Tier 2 program as a standalone course; while another 58 have undertaken it as part of a Financial Services traineeship.
Financial Services Traineeships
As well as utilising a traineeship program to upskill its new staff – Regional Australia Bank has this year launched a specific program that recruits and develops Indigenous Member Service Officer Trainees.
This program is a great way to offer opportunities to indigenous Australians in their local communities and demonstrates Regional Australia Banks putting its commitment to social responsibility into practice.
The value of Regional Australia Bank staff completing a structured training and development plan can't be underestimated.
I have learnt how to approach difficult situations with other staff due to the leadership module and different ways to approach sales. [CIV in Financial Services Regional Australia Bank student]
CPD Programs for RG206 Obligations
In 2014 Regional Australia Bank enrolled key lending staff into the ACCM RG206 online CPD program; and meet annual CPD obligations by continued enrolment.
The CPD offering by ACCM ensures the specific content specified in RG206 is addressed through an easy to access and use online system; that is updated for current content each year.
Most Regional Australia Bank CPD staff choose to complete the program over a few months; while others take the year allowed, such is the flexibility of the program.
Past Training Awards Success Shows its Not a New Commitment - Its a Long Term One
2016 isn't the first success by Regional Australia Bank staff in the state Training Awards. In 2014 Regional Australia Bank (then known as Community Mutual Group) celebrated as James Thomson, Jess Gardiner and Mandy Woodbury were awarded as Finalists in the New England Region.
James completed a Certificate III in Financial Services with The College. Jess is completing a Certificate IV in Credit Management and Mandy is completing a Certificate IV in Financial Services with The College.
In 2013 on a chilly night in Tamworth, trainees from Regional Australia Bank (then known as Community Mutual Group) were well represented as finalists for the Trainee of the Year.Chloe Grills, Leesa Bryant, and Mistie Coker were all finalists having completed a Certificate III in Financial Services with the College. Kelly Woolfe also completed Certificate IV in Credit Management.
Other Awards to Regional Australia Bank for Social Responsibility
In 2014, Regional Australia Bank (then known as Community Mutual Group) were State Finalists in the Excellence in Sustainability category at the NSW Business Chamber Awards after winning at the Armidale Business Awards and the New England North West Business Awards.
Previously they have also been awarded as Socially Responsible Mutual of the Year by Money Magazine in 2013 and 2014.
2015 Tamworth Chamber of Commerce 'Excellence in Community Involvement"
Regional Bank Australia – new name – same commitment to quality staff training
READ ABOUT OTHER MUTUAL BANKING PROGRAMS
Read about the way other Credit Unions and Mutuals use the range of ACCM training services to achieve their customer service and compliance needs.
More Details
If you are interested in establishing a similar program or would like more details please contact Nicole McKinnon at the College:
Wish to share this Article?
Permission is given to quote this article strictly subject to your article containing a direct link back to this page.