Stellar Business Results Through Training in the Illawarra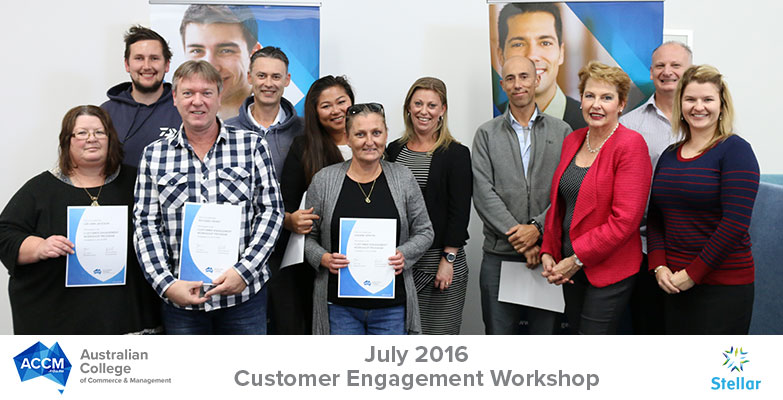 There is no better outcome than helping a key regional employer quickly upscale to meet contract demand; and to provide key pre-vocational training to local unemployed youth. There is, however, an even better outcome when those same "unemployed" people are now engaged and learning in a real job with real prospects.
These outcomes were achieved through a joint program initiated by Australian College of Commerce and Management (ACCM) involving Illawarra Job Actives Campbell Page, Mission Providence, Mission Australia and MBC , and local regional employer Stellar Asia Pacific; and funded and supported by Illawarra Department of Industry under the Smart and Skilled training program.
The Opportunity
More and more businesses and government agencies are recognising the need to keep jobs in Australia, and to support and grow industries like Contact Centres. Australian Contact Centres lead the way with customer engagement, connection to Australian consumers, and ensuring quality workplace practices.
Careers are therefore available in the Australian contact centre industry, but require specific skills and aptitudes.
Where It Began
ACCM has a long history working with reputable Australian Contact Centres to develop their staff and capacity to meet upscaling demands.
In late 2015, ACCM began partnering with Job Actives to identify and better prepare local Illawarra jobseekers for real and meaningful contact centre job opportunities through a Certificate II in Customer Engagement training program.
The program linked into the need by a Wollongong based multi-channel customer contact centre, Stellar, to identify quality staff to meet a major upscaling opportunity.
One of the growth areas for Stellar was the contact centre support for the extension of the federal government My Aged Care Service. This specialist contract demanded staff who could offer polite, reliable and confidential information about age care issues; and who would have the skills and empathy to engage with customers of all ages and background.
Program is a Huge Success for Industry
The program was a great success from the perspective of Stellar.
"We sought to engage over 150 new employees into our business in a short period of time. This was not only an exciting time for our business but also for people of the region seeking new work and career opportunities.

We were very pleased to be able to continue partnering with the College in offering the Certificate 2 in Customer Engagement to jobseekers from select job networks, in offering a foundation qualification and better preparing job seekers for the new opportunities.

I am pleased to say that from approximately 700 applications received for the new positions, we were able to offer 21 jobseekers who completed the Certificate 2 in Customer Engagement positions. This number does not include the latest round of recruitment.

The overall approach was a success!

Frank Iglesias, Corporate HR Manager - Stellar
The Program Participants Loved It Too
The College was overwhelmed by the positive comments from the training program participants. For many it was the first time they had participated in "real" training.
Although the program was very structured with starting times and breaks designed to replicate real working conditions, there was also the focus on activities, interaction and application to realistic work scenarios that is vital to good learning outcomes.
The feedback from the latest workshop has been extremely positive. The most consistent message is that the workshops are: "Well run, professional and helpful"and "efficient and informative".
ACCM prides itself on the employment of our "Excellent trainers". This is another key element to the success of our programs and one that the students appreciate.
One of the students, Michelle, took the effort to later write a personal thank you to ACCM staff:
Overall I can't say enough of how the ACCM are changing people's futures from all different walks of life. This course was initially to gain further knowledge for an employment position I had applied for, though from this experience I have walked away with many new friends and more confidence in my new career path thanks to the ACCM.
And of course those that gained a real job – were over the moon:
I am hearing from the 21 who were offered positions, they are feeling more confident than ever before about their future career prospects and this for us, is the ultimate measure of success."

Frank Iglesias, Corporate HR Manager - Stellar
Upon graduation, these proud new owners of a Cert II in Customer Engagement qualification walk away feeling confident, excited and ready to tackle the demands of supporting Australia's growing Contact Centre industry. Many will have further job opportunities as further roles at Stellar are appointed later in the year.
The Contribution from The NSW Department of Industry
Lynne Eckersley, Training Services Manager from the Illawarra Branch of NSW Department of Industry was the guest of honour at the recent Certificate 2 Course Graduation.
The Department of Industry staff in the Illawarra are always supportive of genuine training programs that benefit local business and make real differences addressing local employment issues. Without the funding provided by the NSW Government under Smart and Skilled these outcomes would not have been achievable.

Lisa Jones, Managing Director Australian College of Commerce and Management
Stand out Outcomes for Job Actives
Mission Providence, Campbell Page, MBC and Mission Australia are just a few of the Job Actives that are involved and committed to the program. The program offers their clients the chance to acquire skills and knowledge that will further their employment opportunities.
So it comes as no surprise that the Job Networks are extremely happy with the outcomes that the program has delivered. It's also a great compliment to hear them speak so highly of the program that ACCM has created and how impressed they are with the standard of training that we deliver.
Sherre Brown, National Client Relationship Manager at ACCM, believes that the success of the program is down to "having a greater understanding of the needs of not only the Job Actives, but also of the local employers and the job seekers themselves. Understanding the potential input of all parties and their desired outcomes is a key part to the success of the program."
Special mention to Corinne Russell from Campbell Page , Daena Collins from MBC and Maraniella Merino from Mission Providence and Cherie Moore from Mission Australia…. Without their support these great outcomes could not have been achieved
About the Training Program
Our immersive face-to-face workshop program was 100% designed and delivered by our industry experienced staff. They created a tailored and dynamic learning environment that transfers real-world Contact Centre skills and experience to our students.
The Certificate II in Customer Engagement program is an effective example of how to give people the tools they need to succeed in getting an opportunity in the workplace.
The program has contributed directly to the decrease in youth unemployment and an increase in employment for jobseekers in the Illawarra region because it focussed on skills in real demand.
It has proven to be a program that gives employers the necessary resources to quickly scale up their business efficiently and effectively.
In addition to this, these cost efficient programs allow Australian employers, big and small, to continue to provide jobs within Australia, rather than outsource to international companies.
ACCM are proud to have helped address unemployment levels, and skills gaps on a local level by providing job seekers with a chance to develop the skills and knowledge needed for not only a chance of employment, but a long lasting career.
Plans for 2016 are to expand the program into other regions.
Understand More About the Long Term Relationship Between ACCM and Stellar
Watch this short video that explains what Stellar do and their commitment to staff training.
More Details
If you are interested in establishing a similar program or would like more details please contact Sheree Brown at the College:
Wish to share this Article?
Permission is given to quote this article strictly subject to your article containing a direct link back to this page.