Study Hacks for Online Students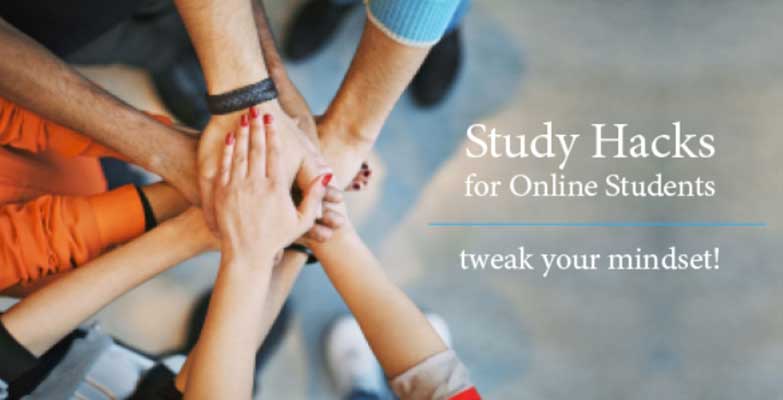 Study is rewarding!
Study can also be hard. Two of the hardest things about study are making the time for it and staying positive.
These study hacks cover realistic ways to help you succeed at study.
1. I can't get started!
Sometimes the hardest part is starting.
Start on day one – if you wait, you will get behind
Make a plan of which days you will study
Put your mobile phone away, turn off the TV and go somewhere quiet.
Open your workbook, open your assessment and start!
2. I can't concentrate!
Sometimes your mind just jumps around and won't let you read. Other times, you can just feel like your assessment will never end!
At first, it might feel like you can't concentrate, but this won't last long.
Decide to stay with it for at least 30 minutes at a time.
Only do one thing at a time – don't download everything at once!
It's really important to do one thing at a time before you start the next – and stay with each question long enough for your mind to get used to what it has to do.
3. I just don't understand the work!
Give yourself 30 minutes to try and understand the question
Use PDF Annotator to make notes on your workbook
Have a 5 minute break
Take some deep breaths
Stretch your legs
Have a drink of water
Come back and read it again.
If you still don't get it, call your Student Advisor. They will explain it.
Once you've answered a couple of questions, you will start to feel that you can do this!
4. This question is too complicated!
Long questions are often smaller questions grouped into one.
Read through the question a couple of times
Spot the smaller question inside the long one
Answer those shorter questions one at a time
Save your work every 10 minutes – or when you make a change
Now read back through them and you might find you've just answered a complicated question!
5. Role plays make me nervous
The hardest part of a role play is ….. picking up the phone!
Role plays are just like chatting to your Student Advisor to show them that you understand what you've learned.
Book in your Role Plays as they come up
Promise yourself a reward for getting this done - a favourite drink, a tim-tam!
Call your Student Advisor at the set time
Your student advisor will talk you through everything
Now go and have your tim-tam!
Remember to stay positive! Hundreds of students have started a course and lived to tell the tale! You can too.
Need help? Contact your Student Advisor!
Call 1300 881 201