Melbourne Cup day - Australian College style!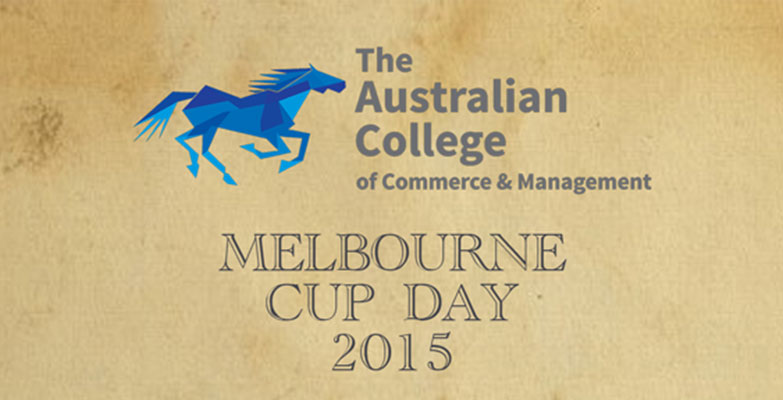 It's Melbourne Cup Day! And here is our guide to the College Runners!
Shazza Rich From Rich Girl and Hall & Oats. Strong contender, has been in training and is the bookmakers' favourite (seeing as she IS the bookmaker). Should place. Entered in Fashions on the Field.
Sharon Morgan By Quick Assessor and More Gun. Honest performer, will stick to inside rails but wont be far from finish – keep safe. Could surprise in Fashions on the Field.
Wayne Marshall One of the few colts in the field – by Where's Wally and Holler-for-a-Marshall. Has strong technical claims, and form on the board. Should be fighting it out for line honours.
James Wishart By Steelers-by-Name and Jim Bob. While fourth in his last start, should improve for the run and will be wearing blinkers. Strong place claims.
Tubbs By Tele and Tubby. Damaged fetlock has dashed his hopes of a first up College Cup. Outside claims at best.
Matt Smith Sired by Darth Vader and War of the Worlds. Came a close second in the College Cup last year and looks better placed this year with a barrier right next to the boss – each way bet.
Lisa Jones Top weight and favourite - Strong contender from the WaterJones stable, recently accredited to 2023 so excellent chance of winning – and probably best if she does! Judging Fashions on the Field.
Tracey Jones Another filly from the WaterJones stable, stakes major claims here and fresh from her recent spell. Should go close, and will be keeping a close eye on the Bookmaker (I hope)! Also entered in Fashions on the Field but close connections with Judge may hamper her chances, or guarantee a win!
Dani Zeitsch By Danny Boy and has top Suth Efrikan jockey to steer her home. Well renowned for pulling something out of her drawer at the last minute – you name it, she has it! Vying for Fashions on the Field (after taking down that b@#h at Autograph)!
Tarryn McNaught Enother Suth Efrikan influence here with light weight and quick speed. Should give the top runners a challenge at the finish. Worth a few dollars on the nose. Another favourite in Fashions on the Field.
Suzie Keem Out of Keem-as-Mustard and Keep 'Em Keem, fastest filly in the race today. Hampered by fetlock strain, but has been walking like she just got off her horse for the last week. Has plenty of pace to bob up and snatch the finish by a nose. Fashions on the Field contender as well.
Dave O'Reilly English import out of Prince Phillip and Not-Another-Gaffe, not big on the rain/water, but will use his connections to practice Pilates to stay calm before the big race. Could surprise.
Julia Erlik From Family Girl and I Love Accounting, Julia will put in a mighty effort as usual and will be hard to beat. Gear change – will be wearing scarf and blinkers, and this should make her go faster! Definite chance in Fashions on the Field.
Linda Fehrer By Stylish and Miss Personality, she should stride out well and set the pace in the opening stages. Question marks about her ability to sprint over the last 400m. Should place. Also has claims in Fashions on the Field.
Deb Bostanci Out of Baskin and Moose-and-I, this mare will prove her worth by storming home to be there in the finish. Can cover the distance between here and Bostons in under 40 seconds carrying her coffee and avocado on toast, so will be a danger. Scratched from Fashions on the Field after her effort last week to staple a "wardrobe malfunction" that resulted in great discomfort when sitting.
Larraine Brown Sired by Browns Best and Proud Nanna, this mare has shown recent form in winning the Finance Stakes by a short half head. Distance may be a problem today, so back her each way. Stronger claims in Fashions on the Field.
Andy Halliday By Madonna (she has a song called Holiday) and Play School, this stallion has been a proven performer over several races, and looks to be a long distance stayer. One to watch.
Karen Boyle Another exciting filly from the Finance Stable, shows great potential and should prove to be a strong runner. Likes a dry track and has new shoes. Put a few dollars on this one. Also entered in Fashions on the Field.
Jared Meikle Out of Me and Kel (get it, Mei-kle!), another stallion that could find the early pace comfortable. More of a mud runner, so top chance if track is wet.
Amanda Piatek Strong claims here from a feisty mud runner – by Wild Thing and Raphael. Slight tissue damage on front fetlock has been treated by the Vet, should be fit and fast at the finish. Watch this space! Nominated for Fashions on the Field and will put her best hoof forward.
Jo Hinge From Door Frame and Open Me (hinge, get it?) this mare is a proven stayer who will definitely be in the mix at the finish. Difficult barrier draw but quick enough to overcome. Will fight out the finish. Another each way chance in Fashions on the Field.
Brett Riddett By Champion Cruiser and IT Rocks, the patriarch of the field and has been there, done that. Will surprise with energy and enthusiasm right to the finish. Always a crowd favourite.
Steph Marsh Has the fitness and form to take this out – one of the best fillies in the field. Put your house on her! Scratched from Fashions on the Field as not here today.
Mel Draper Sparkling runner out of the Business Stable, trained and strapped by Brent. Renowned as a stayer in the big races, has excellent technical ability and boot camp has improved her chances. Strong chance, back straight out. Also scratched from Fashions on the Field as at the REAL race at Kembla Grange!
Sherre Brown (the new one) By Fashionista and Poise, this filly will not disappoint. Still in barrier trials, but sure to run the distance. Strong tip for Fashions on the Field.
Sheree McGregor (the not-quite-as-new one) Well bred and has delivered several quality foals, will use her strength to burst through the field and fight out a close finish. Well groomed and trained by the Business Stable. Put your money on the nose for this horse! In for the fashion stakes, as well – worth an investment.
Nicole McSomething Out of She's the Bride and Last-Name-Change-but-not-by Much, this mare is a quality horse and will lead the field over the first 200m. Great looking fetlocks and sure to impress. A frontrunner for Fashions on the Field.
Tanya Holmes Sired by MEGT and Holmes-is-where-the-heart-is, a tall mare with great strength of character. Proven mud runner so back for a win if there is rain. Will also contest Fashions on the Field.
Karen Gillam Stable mate to Tanya, this exciting mare is a prolific breeder and will do well with Jim Cassidy on board. Also likes the mud, so will be doing a rain dance today in preparation for the big race. Scratched from Fashion Stakes due to the rain dancing (and she's not here!)
Pauline Far Rugia Another overseas contender from Malta, this filly is very Reserve (Bank) and one to watch. May put in protest as has the clout to fight a legal battle. Strong place claims here. Also entered in Fashions on the Field and may prove to be a dark horse!
Leanne Fragiacomo By Physie and Culture, this mare has talent to burn and should not be underestimated. Current lack of sleep due to her own filly may hinder, but back straight out. Big finisher. May show us some Physie marching in Fashions on the Field.
Rachel Flannery From Curriculum and Writer, another outstanding contender from the Finance Stable. Put your house on her (this advice does not reflect the view of the author and no responsibility will be accepted for the result). Keep safe. Another potential winner in Fashions on the Field.
Chris Noel Out of Xmas (you know, the First Noel) and Grandpa, this stallion has been put out to pasture on an extended spell. (well you can't just go to Coffs and think we will be happy about it!). Late withdrawal so scratched.
Chris Zarnos A US import who may find the going tough in this race. Bred for the Kentucky Derby however the College Cup is a bit out of his comfort zone as the track is completely different. Not sure what all the fuss is about for a horse race, may need some elephant juice to guarantee a place finish. Has potential
.
Jess Pollock Another exciting filly from the Finance Stable, by Star Wars and Jessie J. She is stepping in to the field for Chris Noel (scratched) and will not disappoint – can't wear blinkers due to her 'upstyled' mane, butr this shouldn't interfere with her performance. Expect to see her dashing home at the finish. Dead set certainty in Fashions on the Field as she has been recently shod (eg interpret as new shoes).
Megan Mireyleef/g/s By Hay (maiden name) and out of Figtree, this Old Grey Mare "aint what she used to be" (it's a song, for you youngies!). Will struggle and it most likely to be shot and destroyed at end of race. VERY long odds to place – only back for novelty value.
Summary: Best value is to keep your money and enjoy your lunch. Have a great day, and may the best horse win! (And thanks for letting me win the Sweeps again)! And remember, gamble responsibly! (Which seems like a contradiction in terms……)