Keeping an Eye on Industry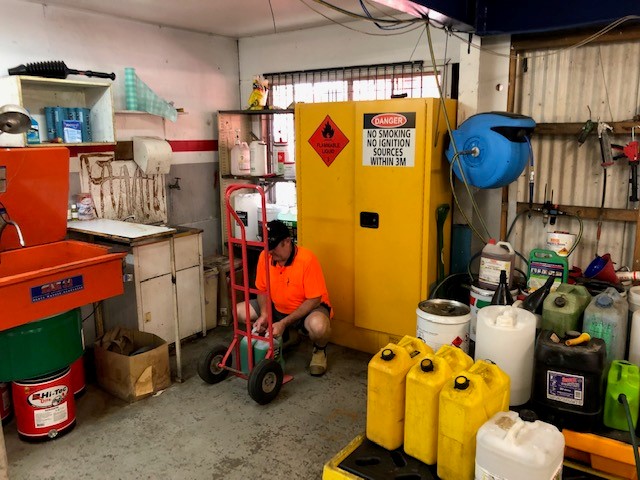 A key part of ensuring we have relevant and up to date learning material and valid assessment practices is to undertake hands-on practicals.
Rob, one of our Supply Chain assessors got his "back into it" recently – with an industry emersion that not only served to keep him up to date but also was used to compare our assessment practices to real world activities and also to those of other RTOs.
Manual Handling Activities
A huge safety risk is hazardous manual handling. The Hazardous Manual Task Code of Practice sets the benchmark as the standard for managing this risk that can cause musculoskeletal disorders.
A key recommendation is that employers ensure staff are aware of the higher risk actions and movements that can cause musculoskeletal disorders.
Movement of materials and loads across the supply chain can be a source of risk due to the amount of muscular effort needed to handle them.
The risk can arise from:
the size, shape and weight of a load, for example a large, bulky or heavy load that cannot be held close to the body, has asymmetrical sides or puts an uneven force on the spine
loads that are difficult to grip because of unsuitable handles, handholds or surface textures
unstable or unwieldy loads which may create sudden or high muscle force
maintaining an awkward posture while carrying a load for a sustained period of time, increasing the muscular effort to undertake a task, or
handling people or animals—both the physical and behavioural nature of people and animals can be a source of risk, for example due to unpredictable movements requiring sudden forces to control, or that present other injury risks like being struck, bitten or grabbed. In general the harder the grip needed to control a person, animal or thing, the greater the force required to handle it.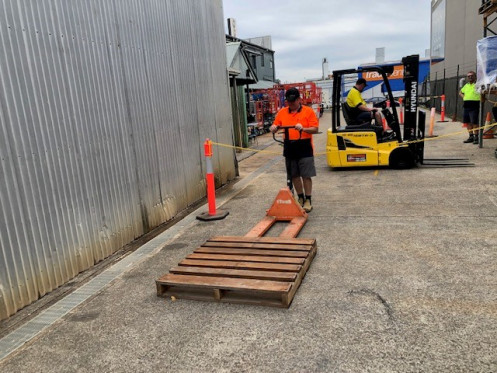 Robs Manual Handling Practicals
A key factor to manage these risks is being trained to consider the nature of the manual task, and following that training.
There are also 2 key risks, even when staff are fully trained in manual handling,:
Not wanting to be seen as unable to make the lift and also
not taking the time to get equipment
These are very common reasons why manual handling risks still occur.
It is therefore important that employees know and work within their limits and take the time to move materials safely.
In these photos – Rob is moving 4 light weight (in the scheme of things) containers of degreaser. (photos 6 7 8 9 10 11 12 )
A key factor is to lift the items safely and to only lift a reasonable weight – so in this case Rob limits himself to one container in each hand. Although he could have managed the 4 – Robs knows that this is unnecessary and would cause an awkward load.
For some people only 1 container at a time would be their personal limit.
A hand trolley is then chosen to move the items to the designated safe storage area. Again, Robs training has kicked in. He has taken the time to get the trolley and so minimise the time he is carrying the containers.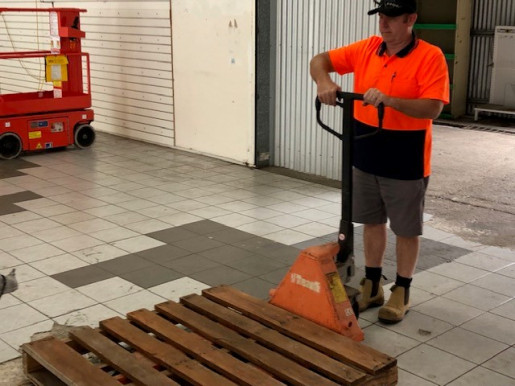 Validation of Assessment Methods and Activities
The core unit in Certificate III in Supply Chain Operations: Shift materials safely using manual handling methods requires evidence of minimising, controlling or eliminating risks that may exist when manually lifting, and to use correct manual handling techniques.
The practical that Rob participated in reflected a realistic scenario and required him to assess the risks and plan the relocation of the goods in a safe manner.
This scenario mirrors the assessment activities required in the ACCM C3 Supply Chain course.
Manual handling can be hazardous and proper training is critical.