Kate Ottewell - NSW State Training Awards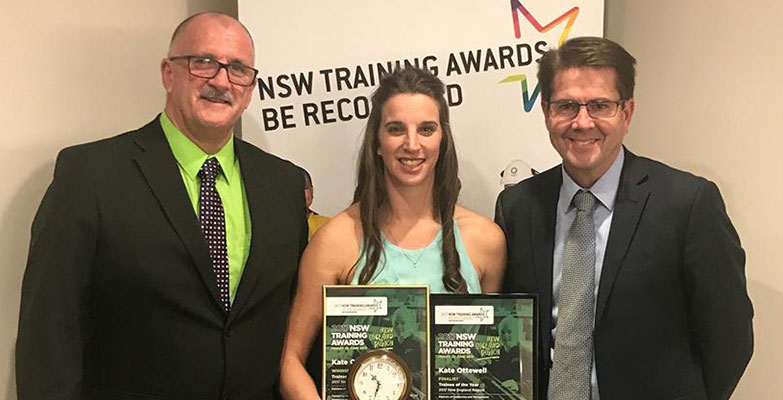 The NSW State Training Awards 2017 are just around the corner. ACCM is extremely excited to have TWO trainees nominated as finalists for the Trainee of the Year award. One of those trainees is Kate Ottewell.
Kate is currently employed by BEST Employment Ltd where she has completed not one, but two traineeships. A Certificate IV in Business Sales and most recently, the Diploma of Leadership and Management.
Kate's dedication and commitment to her studies and employer is just part of the reason why she has been nominated as a finalist.
We caught up with Kate to ask her about her traineeship and her Training Awards experience so far…
Why did you choose to do a traineeship?
I have been lucky enough to do two traineeships - the first was offered to me by my employer, to help improve my skills. I then went straight into another traineeship due to the affordability and opportunity of Smart and Skilled Funding. These have both helped me progress through BEST Employment.
How did it feel when you won the Trainee of the Year award at the New England Awards?
It was extremely rewarding to be acknowledged for my hard work. You never ask to be acknowledged, especially on this level, so it has been very nice.
What was your reaction to being nominated as a State Finalists?
I was thankful for the opportunity to be interviewed - and to be named a finalist was more than I had hoped for. I was very pleased and proud of my achievements, and to represent our region.
How would you describe your experience with ACCM?
ACCM were perfect for what I needed. I travel a lot for my work and, like many jobs, have busy and quiet weeks. ACCM were accommodating to my work schedule and made contact regularly enough to keep me on track but not to overstep. Doing my entire traineeship online was the only way for me, and ACCM made the process very easy.
What advice would you give to other students who are looking to study with ACCM?
Speak with ACCM about your situation - travel, timing etc. Talk to them about what you want and see what course they can recommend. Tap into the College's knowledge and resources and know they will work with you to get you to where you want to go.
If you win Trainee of the Year at State Finals, how do you think it will help you personally and career wise?
Personally- I will be extremely proud, and this will further push my self-drive, as for my career- it will help me continue to advance into the company and will extremely benefit my ability to interact with the community about traineeships.
Thank you for the opportunity.
Kate will join fellow ACCM trainee, James Wishart who is also nominated for the Trainee of the Year Award.
ACCM will also be there as a finalist for the Large Training Provider of the Year.
We wish both trainees the best of luck. We're also keeping a couple of fingers crossed for ourselves.