Giving 100% - Illawarra Training Awards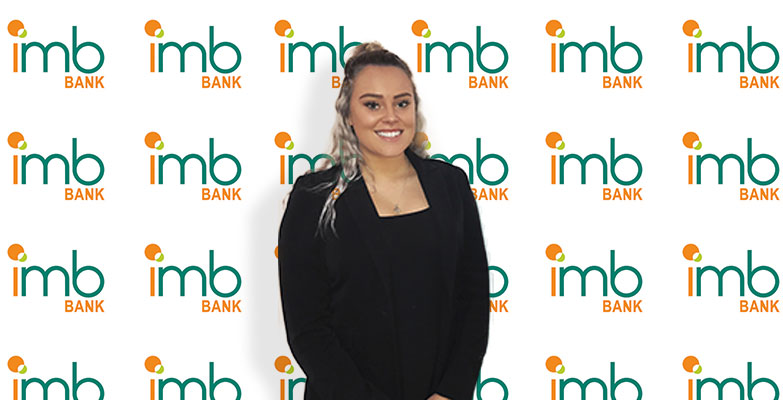 Together, over the last 10 years, IMB Bank and ACCM have delivered over 170 traineeships. This is an extremely impressive number, so it comes as no surprise that IMB Bank has TWO trainees in this year's finals of the Illawarra Regional Training Awards.
One of those finalists is Brittney Janetzki. Brittney began her Certificate III in Business Administration traineeship with IMB and ACCM in 2016 and has excelled in every area of her studies.
When the Brittney found out that she was an Awards Finalist, she was "so shocked, but also happy and proud".
Brittney said "It all felt like a dream and it did not feel real. I could not stop smiling. I was so overwhelmed and excited. I believed I did a very good job, but I didn't think it was enough to be a finalist, so receiving that email was awesome and made me believe in myself more".
Student Adviser, Leoni, has been working closely with Brittney over the last 12 months and was in no way surprised when she heard that Brittney had been selected as a finalist. Leoni said "Brittney's commitment to her study has been show by her regular submissions, demonstrating that she is highly organised and has well developed time management skills".
"It has been exciting to hear her share stories of how she was applying her learnings to her work place activities. Brittney is engaged and gives 100%, and has never been afraid to ask for assistance".
When Brittney was asked about her experience with ACCM, she said "My experience studying with ACCM was great. They were so helpful with all of my studies it made everything a lot easier. Any questions I had in relation to my assessments someone was always there to help me and guide me through what I did not understand. If I were to study again I would definitely choose ACCM, as they were so helpful with any of my questions".
Brittney will be joined by 4 other ACCM finalists at the awards including fellow IMB trainee, Amy shepherd. You can read about Amy's journey here.
As always, ACCM would like to wish all finalists the best of luck at the awards.