Congratulations Jono Frost!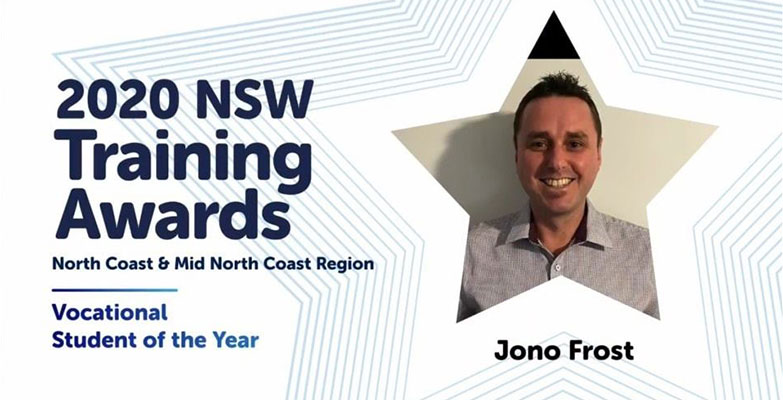 We are so proud to share the news that ACCM student, Jono Frost, who won the Vocational Student of the Year for the North & Mid-North Coast Region, has just been named a finalist for the 2020 NSW State Training Awards!
Jono completed the ICT40215 Certificate IV in Information Technology Support qualification with ACCM under the guidance of our very own Brett Riddett as his Student Adviser. Brett has been extremely proud of Jono and can't say enough about his passion for the IT industry and the benefits of the VET sector.
And in his own words Jono is "humbled and excited to be a State finalist".
It speaks volumes about Jono's character that he never misses a chance to show his appreciation for everyone who helped him reach this stage, including the active and caring support of his employer, supervisor and colleagues at Services NSW.
We caught up with Jono for a chat about his awards experience so far:
What inspired you to complete a qualification?
I love technology! I am passionate about educating people on how to use technology to improve their lives and break down barriers and people's fear of technology. While this was a part of my role in my then career, it wasn't my full-time role and I wanted it to be. After talking to friends and business acquaintances they all said you need a qualification to pursue a role in technology.
Why did you choose ACCM?
In 2008 I started a career in the finance industry and as part of that it was compulsory to complete a Tier 2 Finance Certificate. The credit union I started with choose ACCM to facilitate the online course. 10 Years later I still remembered the awesome experience I had with ACCM, the awesome learning materials, delivery and service from the team. When I decided that I wanted to study an I.T qualification, ACCM was the first place I thought to get in touch with and I am so glad that I did.
How did you find your experience with ACCM?
My experience with ACCM has been first class! The online training resources, assessments, fun practical role plays/activities and my awesome, knowledgeable and inspiring trainer, Brett were the best! Brett went above and beyond to coach, support and help me achieve my qualification.
What have been the highlights of your learning journey?
The content of my course, how it was delivered, the practical assessments/role plays and my awesome trainer, Brett! The skills I have learnt along my learning journey have been invaluable and have helped me in both my personal and work life.
How has your qualification helped you with your career goals?
My qualification gave me a great general overview of the world of Information Technology. It helped me achieve my goal of moving into a full-time digital role.
How did you feel when you heard you had been nominated for the awards?
I was still excited by the successful completion of my qualification - being nominated for the award added to this excitement even more. I felt very proud and reflective.
What was the overall awards experience like?
The award experience was a wonderful chance to reflect on the hard work, the awesome time I had and the rewards that have come from completing my qualification. The awards committee did an outstanding job responding to the COVID challenges by organising an online event that was engaging, fun and captured the excitement of a live award event. Friends and Family from all over NSW got to attend the ceremony and celebrate with me which was really special.
After winning the regional award, I got to meet and spend the day in person with the other regional winners and the award committee at an awards development day. This has been a highlight of my Awards experience as I loved meeting and hearing the other regional winners' stories and training journeys. We have also stayed in touch during the State interview process. I also loved meeting in person and seeing how passionate the skills committee were at seeing us succeed and the time and energy they have spent supporting us for the State Interviews.
Where next?
I am loving being in my current role in a digital product team. Next steps will be further training to expand my current skills, understanding and qualifications even more. My I.T qualification gave me a great general overview of the I.T industry and helped open up some fantastic opportunities. It has inspired me to keep on learning, developing and achieving.
This year's Annual Award Ceremony will be a virtual event held on Friday, 9 October 2020, in keeping with the safety measures in place to protect NSW.
But that won't stop us from cheering from our lounge rooms, as Jono vies for the 2020 NSW Training Awards Vocational Student of the Year!
Stay tuned for an update on Jono's ongoing success!