Central and Northern Sydney Regional Training Awards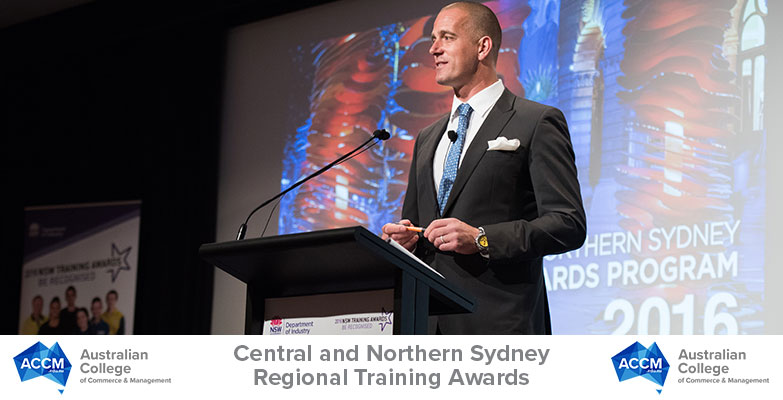 UTS: Design, Architecture and Building was the host venue to over 30 finalists in the Central and Northern Sydney Regional Training Awards on Friday (01.07.16)
ACCM was proud to be in attendance to support Aboriginal and Torres Strait Islander Student Award Finalist, Cara McGrath. Cara was nominated for her hard work and dedication towards her Certificate III in Business Administration.
Cara was keen to grow her skills and take on something new, so when she was offered the opportunity of a traineeship at the Ambulance Service of NSW, she was ready to take on the challenge. She successfully completed a Certificate III in Business Administration through the Australian College of Commerce and Management while working in her busy job as Administrative Assistant.
Cara says her training and the support of her supervisor and the NSW Ambulances team brought out her desire to do her best. "It really pushed me" she says, "and made me strive to keep going further".
She was able to apply what she was learning and develop her communication and organisational skills. "My training gave me confidence that I didn't know I had within me" says Cara. "If I told the old me how far I've come she wouldn't believe me."

Cara completed an extra qualification while on the job, achieving a Certificate III in Finance Services. She also completed internal NSW Ambulance training, learning about specific products, customer service, as well as legislative and privacy policy and procedures.
Cara is keen to continue on her career path and is proud of her achievements. "My future has never looked brighter" she says.
We're extremely proud of Cara and her achievements to date and we are sure that she will be greatly successful in her chosen career.
ACCM was also proud to be a Gold Sponsor of the Awards. We would like to wish all students the very best for the future and we can't wait to see what next year brings.