Australian Training Awards 2016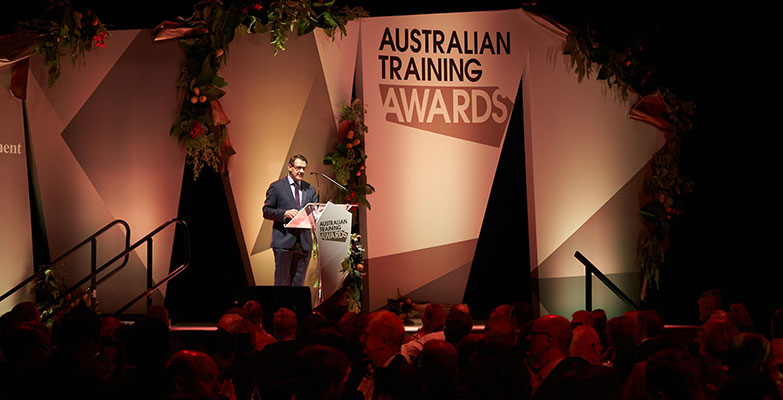 In July 2016, ACCM student, Tyrone Pynor, won the Western Sydney & Blue Mountains Regional Training Award for School Based Apprentice/Trainee of the Year.
Winning the award for his region was a massive accomplishment. Tyrone was then entered as a finalist into the NSW Training Awards in the School Based Student of the Year category.
On the 8th September, 2016, Tyrone made his way to the State Training Awards ceremony which was held in Sydney. Other finalists in the category included Tearra Charles (Riverina Region winner) and Alanna Semrani (Southern and South Western Sydney Region winner). Once again, Tyrone was successful and won!
Tyrone sees his school-based traineeship with the National Australia Bank as "an opportunity to gain the skills to make real decisions about my choice of career path."

His supervisors at NAB commented on Tyrone's attention to detail, approachability to customers and staff and commitment to excellence. Developing time management skills was critical to ensuring all school assignments were completed punctually.
To Darwin!
Winning the state finals meant that Tyrone would now be heading to Darwin to represent the state of NSW at the National Australian Training Awards.
This is an amazing achievement that sees VET students from across Australia represent their state in hopes of being crowned winner of their category.
The awards evening was held at Darwin Convention Centre. Tyrone just missed out on winning his category. But to be able to say that he got this far is an epic achievement. Throughout Australia, thousands of people are nominated for these awards and only a handful make it this far. This is a once in a lifetime achievement that will stay with all finalists for the rest of their lives and an experience that will be cherished forever.
Everyone at ACCM is extremely proud of Tyrone and everything that he has achieved so far.
We wish him, and all finalists, the very best for the future and we can't wait to see what next year's awards will bring.
If you would like to nominate a student for the Awards, please contact us on 1800 111 700 or email us
Australian Training Awards 2016 Winners and Finalists
Lifetime Achievement Award – Douglas Wright AM
National Achievement Awards – Denise Stevens (VIC)
Australian School-based Apprentice of the Year Award
Winner – Leuwin Andrew (SA)
Runner up – Madeline Wallace (ACT)
Finalists
- Tyrone Pynor (NSW)
- Adam Hungerford (Queensland)
- James Schifferle (VIC)
- Dimiti Andresen (NT)
- Sharnie-Lee Clark (TAS)
- Liam Brien (WA
Vocational Student of the Year Award
Winner – Carla Willcox (TAS)
Runner-up – Jennifer Peart (VIC)
Finalists
- Kerrie Brewer (ACT)
- Ashlee Coleman (NT)
- Stephen Dawson (SA)
- Francine Ikirezi (NSW)
- Ashleigh Taylor (QLD)
- Louise Brookes (WA)
Aboriginal and Torres Strait Islander Student of the Year Award
Winner – Indi Clarke (VIC)
Runner-up – Dawn Ivinson
Finalists
- Jacob Keed (ACT)
- Nicholas Muir (QLD)
- Jarrod Edwards (TAS)
- Leteah Mitchell (NSW)
- Rachel Jackson (SA)
- Naomi Beath (WA
Australian Apprentice (Trainee) of the Year Award
Winner – Ben Nedwich (QLD)
Runner-up – Josiah Clayton (SA)
Finalists
- Chloe Handley (ACT)
- Neda Aleksic (NT)
- David Cooper (VIC)
- Daniel Kelty (NSW)
- David Gardiner (TAS)
- Blake Sayer (WA)
Australian Apprentice of the Year Award
Winner – Shane Dealy (ACT)
Runner-up – Courtney Harrison (NSW)
Finalists
- Ella Cavallaro (NT)
- Jack Donaldson (SA)
- Steven Jeffery (VIC)
- Ashley Brown (QLD)
- Drew Charlton (TAS)
- Brendan Carlson (WA)
VET Teacher/Trainer of the Year Award
Winner – Donna Colombini (NSW)
Runner-up – Tegan Mossop (WA)
Finalists
- Daniel McNamara (ACT)
- Judy Hoskins (QLD)
- Nate Welch (TAS)
- Liam Fraser (NT)
- Jenni Edsall (SA)
- Marc Nichol (VIC)
Excellence in Language, Literacy and Numeracy Practice Award
Winner – Isabel Osuna-Gatty (NT
Finalists
- Jean Ditton (QLD)
- Petra Davis (QLD)
Wish to share this Article?
Permission is given to quote this article strictly subject to your article containing a direct link back to this page.
Header image Credit: Department of Education and Training
Image source - https://www.australiantrainingawards.gov.au/awards/2016
Image Source - https://www.facebook.com/TrainingAwards