Australian Trainee of the Year - 2020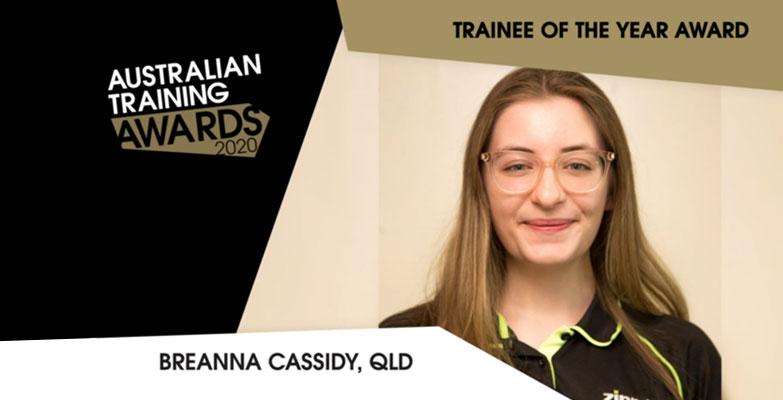 Every year, thousands of students across Australia vie for the coveted Trainee of the Year Award, and this year has been no different. While the challenges of COVID-19 had an impact on how the ceremony was run, the criteria for capturing these honours were just as tough and competitive.
Amongst the thousands of initial nominees across Australia, ACCM had over 20 students nominated for their regional awards, with two making it to the National finals at the Australian Training Awards. The Australian Training Awards welcomes just one representative from each state as a finalist in their nominated category.
AND THE WINNER IS...
There was tremendous success on the night for ACCM student, Breanna Cassidy, who took home Australia's Trainee of the Year Award.
Breanna kick started her career in graphic design when she enrolled into a Certificate III in Business Traineeship with employer, Zip Print Australia in Queensland. With her passion for business and graphic design perfectly paired, Breanna began to expand her skills and develop her confidence within the workplace. This was recognised by ACCM when she was nominated for Student of the Month due to her dedication towards her studies.
When asked about her training and awards experience, Breanna said:
"I have had a wonderful experience while undertaking a Traineeship with Zip Print Australia! I felt like I was supported entirely throughout my learning journey not only by Zip Print Australia but by the ACCM team. I was surrounded by people who wanted me to succeed and achieve and I couldn't be more grateful. I am now undertaking an apprenticeship with Zip Print Australia and am excited to kick start my career in Prepress and Graphic Arts.
The Australian Training Awards was an incredible experience and I am so lucky that I was able to attend an event with the QLD Finalists. The event itself was digital but to be able to watch the awards with other category finalists was a huge honor.
I want to extend my thanks to everyone who has supported me through my journey and I hope that I've made them proud."
Throughout her traineeship, Breanna's growing skillset and dedication towards her role was continuously recognised by her employer. Breanna is recognised as a valued team member who has developed the ability to "solve complex problems in a fast paced and demanding workplace". Breanna's talents were further recognised when her employer continued to support her learning journey, with Breanna now enrolled in an Apprenticeship in Graphic pre-press.
Breanna's employer, Stacey Cox, supported Breanna throughout her qualification and had this to say about the experience:
"Zip Print Australia has had the pleasure of working with ACCM when hiring Breanna as a Trainee.
As a new employer to the Trainee & Apprentice system I wanted to be sure that I could fulfil my duties and that my trainee would fulfil their duties to the Registered Training Organisation & State Training Authority. ACCM collaboratively supported my interests of accessing and following the Student Record progress and independently followed up the Trainee's progress.
Employing someone with no working background into a traineeship position was an invaluable support for our Business; creating a backbone of soft skills required in all aspects of the Business. I found that the core materials balanced work place practice and provided the combination of knowledge, skills, attitude and abilities to fit our organisation. Key factors were training in work health & safety, policy & procedures, confidentiality agreements, dealing with customers and complaints, rumours in the work place, time management and cleanliness.
The long term benefit we have received is specific skills gained, increased retention and loyalty for the Business; of which we have supported and encouraged to earn the qualification for their personal growth. With the flexibility of making all the hiring decisions and the benefits of hiring an apprentice or trainee we have continued with this route with our newest employee also starting the Certificate III in Business with ACCM."
Breanna's continued dedication towards her future career continues to impress and we look forward to hearing all about her learning journey and celebrating her future achievements.
Vocational Student of the Year Finalist
We are also extremely proud of ACCM student, Jono Frost. Jono from NSW achieved National Finalist status in the Vocational Student of the Year category due to his outstanding commitment towards his Certificate IV in Information Technology Support. Jono took some time out of his busy schedule to send us a quick update about his experience:
"I said in my Australian interview I was very lucky to have met Brett & ACCM and had you to guide me on my VET pathway - Using my Ambassador role I really want to try and reach the "Big Kids" like me that were in jobs they liked but didn't love, and didn't know there was so much support for them to do a job they love using VET. I have joined the Regional Training Skills Committee and I will be attending their next annual planning meetings.
I really look forward to sharing my Ambassador adventure with all of you at ACCM and hopefully we get to meet in person at next year's Training Awards event!!"
Although Jono didn't take home the award, his experience has been an awesome one. He now begins his journey of flying the flag for NSW state and regions as a VET Ambassador.
We are extremely proud of both Breanna and Jono, and we look forward to following their awards journey into the 2021.