ACCM Proudly Celebrates our 25th Anniversary 1996-2021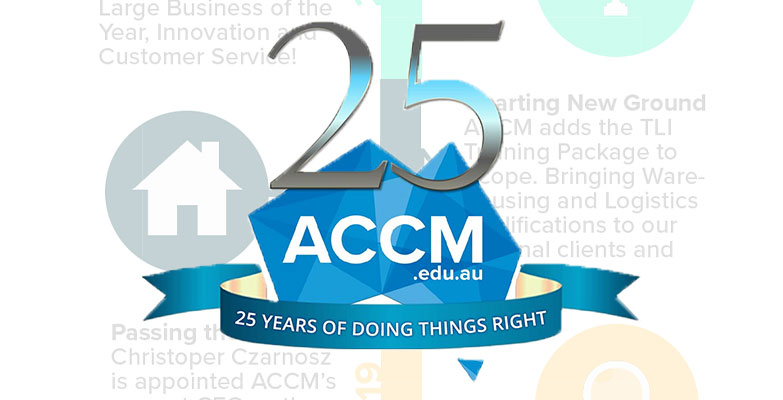 Vocational Training is a dynamic and demanding industry, where the only constant is change.
Keeping pace with the shifting needs of industry, legislation, technology and ever evolving best practices takes not just focus, but passion.
Our recipe for remaining a thriving and successful RTO over the last 25 years has been to:
Make ethical and moral behaviour a cornerstone of our business model supporting our clients, industry partners and students
Develop relevant and meaningful learning materials that deliver the range of skills our learners need to succeed
Hire only proven industry experts with a passion for learning and a real desire to pass on their skills and knowledge
Actively reach out to our students, early and often, to help them reach their learning goals
Embrace technology, and use it to find better ways to deliver knowledge, build experience and drive competence
This formula has worked well for ACCM over the last quarter century, and we can't wait to see what comes next.
Thank you to all our students, partners and clients, past and present, for being part of our proud history and our exciting future.
Look below for just a few of ACCM's significant milestones.