ACCM College is proud to celebrate our first major Traineeship graduation with Youi!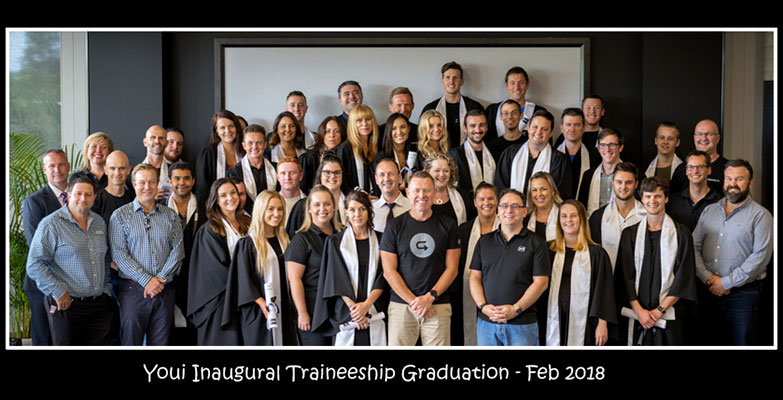 36 smiling faces lit up the stage on February 20th at Youi's brand new Australian Headquarters building in beautiful Sippy Downs, Queensland.
With Youi's CEO Frank Costigan, the entire executive board and over 60 supervisors and Youi team members in attendance, 36 Trainees were presented their graduation certificates. Our very own College Director Chris Czarnosz presented special awards for academic excellence to Jamie Brown, Bianca Skews and Helen Kopcikas-Moore whose work shone throughout the program.
These special days don't just happen. Our relationship with Youi dates back to early 2016 when we were asked to create a one of a kind Certificate III in Customer Engagement course for one of Australia's fastest growing personal insurers. What did they want? A course that was meaningful, relevant, and worked with the high tempo flow of their daily operations.
And based on the feedback from Youi's CEO and leadership, ACCM College delivered.
We take pride in every program we design, but this course was special for everyone here at ACCM. We had worked hard with Youi to capture their core focus of Awesome Service in every part of their program. The result was a 100% tailored program that captured the work they do every day, reinforced their strong culture and delivered high quality service for their clients.
ACCM College believes that a strong return on investment is the true value of Vocational Education. Based on what we've seen at Youi, their investment in their staff is paying off every day.
We can't wait for the next graduation in November and more smiling faces.