ACCM College and Mercer Learning – Distressed Callers Program.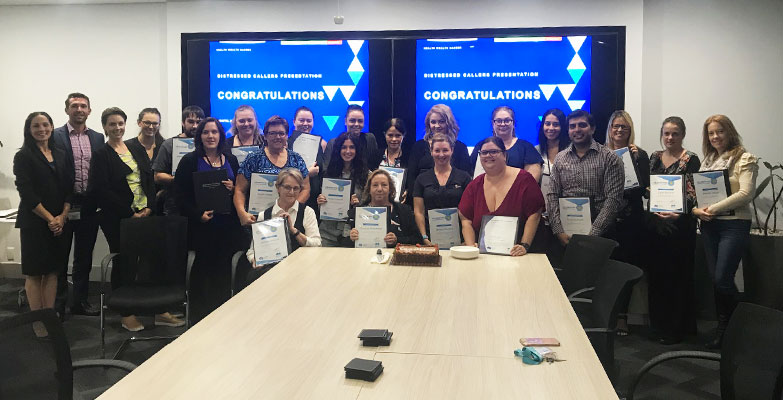 In September 2018, Mercer Learning approached ACCM to create a unique program to enhance their talented staff's ability to support their valued clients. Mercer's proactive client focus ensured they fully understood their business requires supporting people during what is often the most difficult time in their lives. And as they have always done, Mercer took this responsibility personally and made a huge commitment to ensuring positive outcomes for their clients.
With this important goal front of mind, ACCM's customer service and call centre experts collaborated with Mercer's experienced managers and centre staff to create the one of a kind Distressed Caller's Program.
The result was a fully-contextualised program that focussed on meeting the diverse needs and expectations of a caller during high stress or emotionally charged engagements. Using a blend of face to face workshops and distance learning, Mercer's Wollongong staff quickly absorbed the learning material, practiced new techniques and increased their ability to respond positively, realistically and empathetically in even the most difficult challenges.
So far, 39 Mercer employees across four cohorts have completed the program! The relevant content and meaningful practical activities were well received across the business by both managers and participants. Even better, mixing learning cohorts from across the Mercer site allowed different teams to share their experiences and successes with each other. Creating new sources of support and inspiration across Mercer going forward.
The data speaks for itself. Based on the pre-course and post-course surveys completed, Mercer and ACCM found a 19% improvement across participants in their confidence and ability to manage Distressed Calls. This includes an impressive 18% overall increase in their confidence in taking an escalated Distressed Call, with 64% of participants stated they were able to utilise these new skills in their everyday support for Mercer's clients
At ACCM we always strive to create course content that is both educational and inspirational, and the feedback that our course was interesting, thought provoking content with new ideas that have not been explored before was music to our ears.
ACCM is proud to be part of yet another successful collaboration with Mercer Learning, and look forward to a long and successful partnership with this outstanding and customer focussed organization.