G.James and ACCM - Partners in Leadership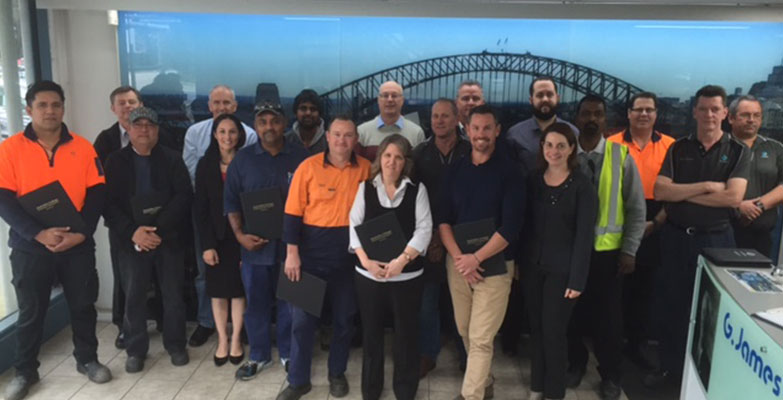 In 2017 the G.James Group celebrates 100 years of history, achievements and service to the building & construction industry. This milestone is achieved by very few businesses let alone a family business such as G.James. Their long-term success is a direct result of generations of proactive leadership, proven business skills and the valuable contributions made by employees - past and present.
This commitment to the next generation remains part of G.James' strategic planning and when they were ready to develop tomorrow's leaders, they called upon ACCM.
Partnering with G.James leadership, ACCM put our own 20 years of experience and expertise in developing Certificate IV in Leadership and Management programs to good use.
It was important to G.James the course be meaningful across the whole range of G.James leadership roles, including sales, marketing, administration, production and even Senior Management.
Together we crafted a unique course, designing case studies and role plays specifically focused on G.James operations and the business and leadership challenges facing their organisation.
But a meaningful course was only part of the equation; G.James knew that face to face training by a talented trainer would be the key to motivating and engaging their diverse range of staff.
And ACCM delivered. In fact, during one workshop where conversation shifted to a real problem staff were facing, ACCM's experienced and talented Trainer abandoned her plan and facilitated an impromptu problem-solving session between the staff and G.James' own General Manager.
Her flexible approach showed everyone how to put continuous improvement, quality planning and innovation strategies into daily practice and 'really make a difference' at G.James.
G James' leadership proved their commitment to this program time and again. After each workshop, NSW Glass Division General Manager, Michael Pascoe and Sydney Commercial Branch Manager, Mark Sandblom took the time to review what had been taught in that session and show them how G.James needs each person to use those exact skills every day in their various roles.
Based on feedback from G.James HR Manager, Rachel Driessen, the Certificate IV Leadership program was a complete success, with all 17 students graduating, and some moving into even higher supervisory roles within G.James.
ACCM looks forward to continuing our relationship with G.James and delivering more successful programs to their dedicated staff.
Talk to us about how we can help with your specific training needs.