A Hunger For Knowledge - Illawarra Training Awards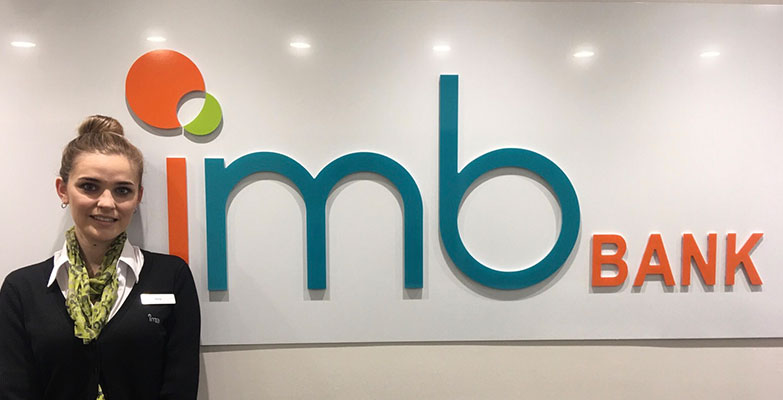 In February 2016, Amy Shepherd commenced a Certificate III in Business Traineeship with IMB Bank.
After completing her traineeship in February 2017, Amy decided that she would like to continue developing her skills in the Finance industry and enrolled in a Certificate IV in Finance and Mortgage Broking. On top of this, Amy is also completing a Certificate IV in Leadership and Management through IMB Bank.
With this drive and passion to learn, Amy is a prime example of a Training Awards Finalist.
Upon hearing the news that she had been selected as a finalist for the Illawarra Regional Training Awards, Amy said "When I found out that I was a finalist I was proud. Sharing my story of how the Certificate III in Business has affected my life, and changed my careers goals was very fulfilling. I was glad to be a part of this great event that creates awareness of different pathways to achieve your dreams in your working life".
Amy's Student Adviser, Leoni, is continually impressed with Amy's hard work and the dedication that she shows towards her studies.
"Amy is a perceptive, sharp, quick individual with a high aptitude for learning. Her hunger for knowledge has been evident throughout her studies. Throughout the year Amy was an active participant in our discussions, and never afraid to ask for assistance. Amy continues to demonstrate her commitment to learning though her continued studies with the College, I'm looking forward to following this ambitious young ladies career".
When Amy was asked about her experience with ACCM she said
"My experience studying with ACCM was great. It was a very easy and convenient way to gain a qualification in my relevant field. Having access to a student adviser made the studying process even more enjoyable, as the relationship with the adviser creates a more positive and approachable nature to the study programme. They are always there to help out with any questions, and have great background knowledge in the field I was studying in. My experience studying through ACCM was such a positive experience that I am now completing 2 Certificate IVs in relevant fields through ACCM".
Amy will be joined by 4 other ACCM finalists at the awards including fellow IMB trainee, Brittney Janetzki. You can read about Brittney's journey here.
As always, ACCM would like to wish all finalists the best of luck at the awards.