50 Feedback Competition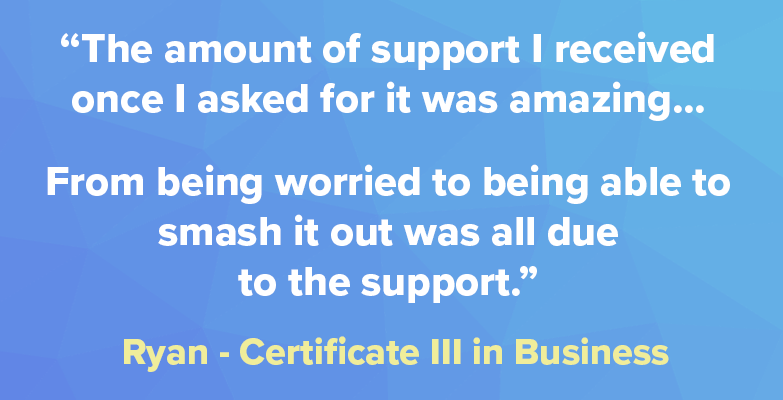 One sure way to find out how we can improve is to ask!
At ACCM we encourage our students to give us feedback about all aspects of their experience – from how they found the course materials to how supported they felt by their student adviser.
One way we collect this invaluable information is through our "50 Feedback" competition. Each month, we give our newly qualified students a chance to pick up a $50 voucher in exchange for their thoughts:
"I have truly enjoyed my learning experience throughout my Certificate IV in Bookkeeping and Accounting course with your college. The course was flexible, online and self-paced which meant that I could finish it in my own time and space and combine it with my full-time job. The course content was relevant, up-to-date and easy to access and understand. The structure for assessments and assignments was organised and easy to follow. My student adviser Donna was always helpful and supportive and the whole journey felt so pleasant, I would definitely recommend you to others!"
Ines - Certificate IV in Bookkeeping and Accounting
"Thank you so much for all the support and help along the way of completing my traineeship, it's been so great this course and I hope all people doing this course have a great outcome too."
Chloe Barnett - Certificate III in Business
"I loved how easy the process was, and all the resources that were available. I thank Catherine Birkett, for not only being kind and understanding if I ever had a concern, but also being an amazing, supportive Student Adviser. I also thank Leoni Blackwell for being super kind and supportive during Roleplays that I took. Thank you ACCM, for helping me reach my goals."
Emilee - Certificate IV in Finance and Mortgage Broking
"Just completed certificate 4 in Project Management with ACCM College. The professionalism and guidance of Debrah was amazing and made this a really enjoyable experience. Overall ACCM College was very professional and very easy to deal with, I would definitely recommend anyone who is looking at completing online study to go through ACCM."
Tyler - Certificate IV in Project Management Practice
"I would like to thank you personally Catherine for your assistance throughout the course. You were very friendly, available, and helpful. You made the whole process as easy and seamless as possible. The course itself was easy to follow and complete online. I had all the relevant resources to learn and complete each assessment and I feel confident in understanding my role and what is required to fulfil it.
Jackson - Certificate IV in Finance and Mortgage Broking
"My experience with ACCM was they are very very helpful and take all the right steps to make sure you get the best out of my course."
Sophie – Certificate IV in Business Administration
"ACCM has been the ideal platform for studying and obtaining qualifications in a variety of areas and courses.
I had the privilege of finishing a Certificate III in Business, and there was always someone there to help me along the road whenever I got stuck. I had the privilege of speaking with the majority of ACCM employees, and they were all wonderful, professional, and helpful.
My certificate's assigned supervisor (Kathryn) was the greatest and most helpful individual I have ever worked with. Her kindness and knowledge never failed to inspire me to push myself further. She had a good sense of humour and could see where I was coming from, from my point of view.
ACCM College is highly recommended by me. I will also enthusiastically suggest them for any future courses or courses that others may choose to take."
Joanna - Certificate III in Business
"I was so grateful to have such quick communication and responses when needed, and assistance throughout her entire process. It means a lot as previous courses I have done, I've never have that overwhelming support I had here and I'm very appreciative of that because it helped me immensely, and helped me achieve the certificate. Wanted to thank you for all of your time and support. Keep doing what your doing because it's amazing, and if I ever get the chance to work with ACCM again, I'd be over the moon."
Skylah - CIII in Business
"I have recently completed the Cert IV in Business Administration.

The most challenging part of undertaking this course was working full time, family commitments, the Principal passing away suddenly and a very close friend passing away. This meant that most weekends I spent studying. I now have my weekends back!

I felt that my 25+ years of experience working in administration and my previous qualifications were not taken into account when doing this course.

I did appreciate the support of my student advisor Kelly Lee who assisted me on my journey."
Eileen - Certificate IV Business Administration
"I would like to thank the Australian College especially Debra Wieland my student advisor who was unbelievable in the support I received and her wealth of knowledge.
Deb assisted in working through the assignments with the Diploma of Human Resource Management.
Rating for Deb would be a 10 out of 10, as without her support I would not have been able to get through it.
The course in itself was relevant to my current career path and assisted in what I am currently doing in the workplace.
As the diploma assignments were huge, I don't believe I could have completed them without the resources supplied by the college along with the Support of Deb and Megan."
Samantha - Diploma of Human Resources Management
"ACCM exceeded my expectations, they were always happy to help with any queries I had, the course content was easy to understand whilst still challenging in some areas and there was a wide variety of learning and question styles incorporated into the course work. Special Thank you to Samantha and Lynette for assisting me throughout my studies, it was a bumpy ride on my end filled with many obstacles but we got there in the end and way ahead than originally planned?"
Ellie - Certificate IV in Legal Services
"I was very surprised at how amazing the training was. My advisor Karolyn was so supportive, and I learnt so much from her, also whenever I interacted with another advisor, they were so friendly. It was great to have support still during lockdown and I would like to thank everyone at ACCM for making it a less stressful situation for my training."
Jenaya - Certificate III in Business
"I found the experience very rewarding. The subjects were informative and made me think about the way I was doing things and ways I could improve on how I was doing things. The support I received from the college was appreciated and I will be sure to investigate further courses to study through ACCM."
Trish - Certificate IV in Leadership and Management