2022 NSW State Training Awards Finalist Mathew Macgregor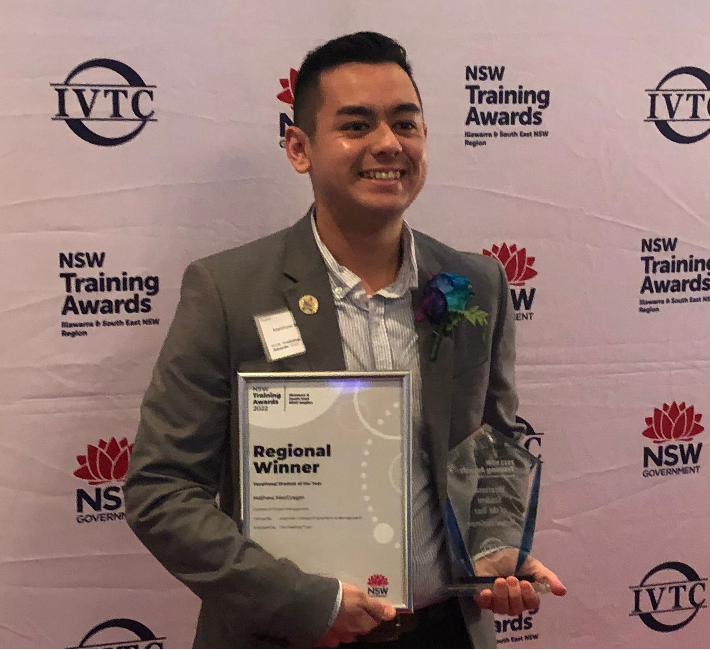 Finalist for Vocational Student of Year
One of the great things about being an RTO is sharing the learning journey with our learners and seeing them succeed.
We wanted to share some of Mathew's story and experience with you (from his own words), and we know you'll be as proud of him as we are.
We hope you enjoy reading this as much as we did!
What were some benefits regarding your study/course? What do you plan to achieve with your qualification within your role?
For the longest time I always had an interest in studying project management because of the versatility of the qualification. Project management isn't simply limited to just one industry, the concepts and ideas can be applied to any workplace and industry. ACCM's course covered everything from financial analysis, time management and research skills, all of which are vital to any profession.
In terms of what I plan to achieve, I have been lucky enough to be able to apply my course to my workplace working on small scale projects aimed at improving efficiency within my team.
Were you surprised to be nominated? Who did you first notify of your nomination?
It was a shock to be nominated, the awards were not something that I had envisioned or even considered as something I'd be capable of achieving.
I remember being at my work desk when I received the invitation to interview at the Regional-level. My manager sits right across from me and I stood up and just said "I've been asked to interview for the awards!"
From there I continued to dismiss thinking I'd actually win, but I was already incredibly shocked and grateful for the success I had already achieved in being recognised.
So to be chosen as a regional winner and then to be a state finalist is something that was truly unexpected and humbling.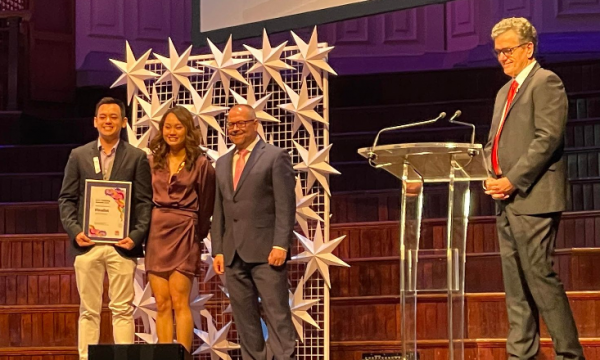 What was the overall training awards experience like?
First, I was really proud just to be nominated by my employer and ACCM. However the nomination process is not an easy one, as it's not easy to have to talk or write essays about yourself.
After the nomination process was completed, I believed that was the end of my story. However, I was lucky enough to be chosen as a finalist for the Illawarra and South Coast Regional awards, and was asked to interview with the Awards committee.
This was quite the daunting process; having to speak about yourself and tell your story to a panel of strangers in a short period is not an easy thing to do.
However, the panel must have appreciated my journey as I was fortunate enough to win for my Region and be put forward as a NSW State-level competitor.
The State-level awards required me to prepare a short presentation about my vocational journey and tell my story of what I had done and planned to do.
I was amazed when this secured me a position as a state finalist and an invitation to the big awards night at Sydney Town Hall.
What was the Awards night like for you?
The awards night was a beautiful evening full of celebration of everyone's achievement.
Something I had learnt throughout the process was that whilst I may not have been successful as the state winner, everyone is there to celebrate each other's success and seeing past winners and finalists come together is an amazing feeling.
I keep using the word family to describe the journey. And it is just that, meeting like-minded people, passionate about vocational education all here with the aim of seeing the best for everyone.
What is next? Do you plan to do more study?
I am in the final semester of my university studies, so for me at the moment I plan on completing my course a Bachelor of Arts/Bachelor of Commerce at the University of Wollongong.
Once I graduate I am looking at all the options I have. I don't believe I am done with study, whether that be pursuing another vocational course, or pursuing post graduate study, I truly think this is only the beginning for me.
In terms of work, I think I am only just starting to grow. I am getting so much experience in my role as a finance officer learning from my colleagues and managers I have a great support network who want to see myself and the rest of my team succeed.
I'd love to further put my project management knowledge to use, working on further projects and look to improve processes and implement positive change in whatever i do.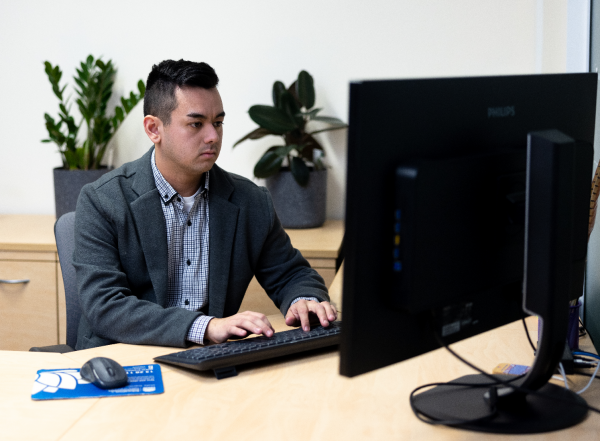 Can you provide feedback regarding student advisor/ACCM support/assistance?
Debra Wieland was my student advisor for the duration of my course. She was always a supportive and educational advisor, ready to make time to assist me through my coursework as necessary.
She helped push me to drive and push through my course. Without her support and guidance I wouldn't have been able to finish the course as quickly as possible.
On behalf of everyone at ACCM, we are supremely proud of Mathew and all the he has accomplished.
And for those who haven't been part of an Awards journey themselves, 2023 is right around the corner.